Attention:
Shipping restriction: Due to exclusive distributor of Aspire, we do not send Aspire products to customers in South Korea.
Aspire Feedlink Revvo Kit

Details
| | |
| --- | --- |
| Brand: | Aspire |
| Product Name: | Feedlink Revvo Kit Feedlink Squonk Mod With 2ml Revvo boost Tank |
| Type: | Vape Kit/Starter Kit |
| Color: | Silver, Black/Blue, Gunmetal/Chrome, Silver/Sunset Red, Black/Nightsky |
Introduction
The Aspire Feedlink Revvo Kit comes with Feedlink Squonk Mod and Revvo boost Tank. The Feedlink is powered by single 18650 battery, featuring pistol grip feel for easy operation. With built-in 7ml silicon e-juice bottle, it can meet your daily need. The newly designed bottom feeding Revvo boost Tank comes in a TPD compliant 2ml capacity, which utilizes innovative ARC coil to deliver huge vapor and intense flavor. With three large air inlets and squonk style bottom feed filling system, you can just squeeze the squonk bottle and it's filled.
Parameter
| | |
| --- | --- |
| Size: | 124*48*30mm |
| Coil: | ARC coil |
| Tank capacity: | 2ml |
| Silicone bottle capacity: | 7ml |
| Output wattage: | 3.0-4.2V |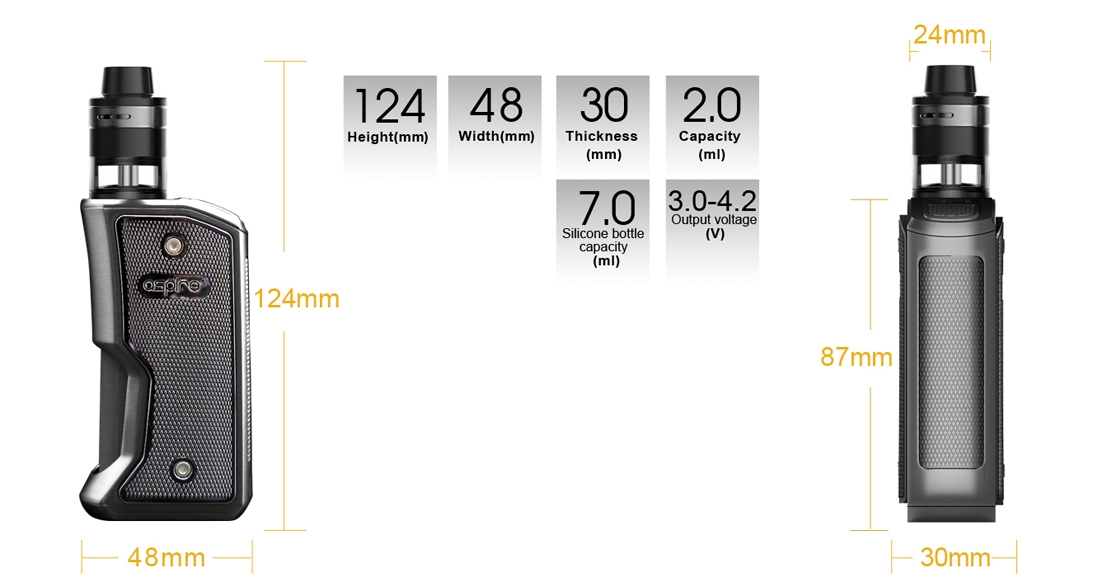 Features
➤ 1. Powered by a single 18650 battery.
➤ 2. Newly designed bottom feeding Revvo boost 2ml Tank.
➤ 3. Innovative ARC(Aspire Radial Coil) coil.
➤ 4. Built-in 7ml silicon e-juice bottle.
➤ 5. Three large air inlets.
➤ 6. Battery life indication.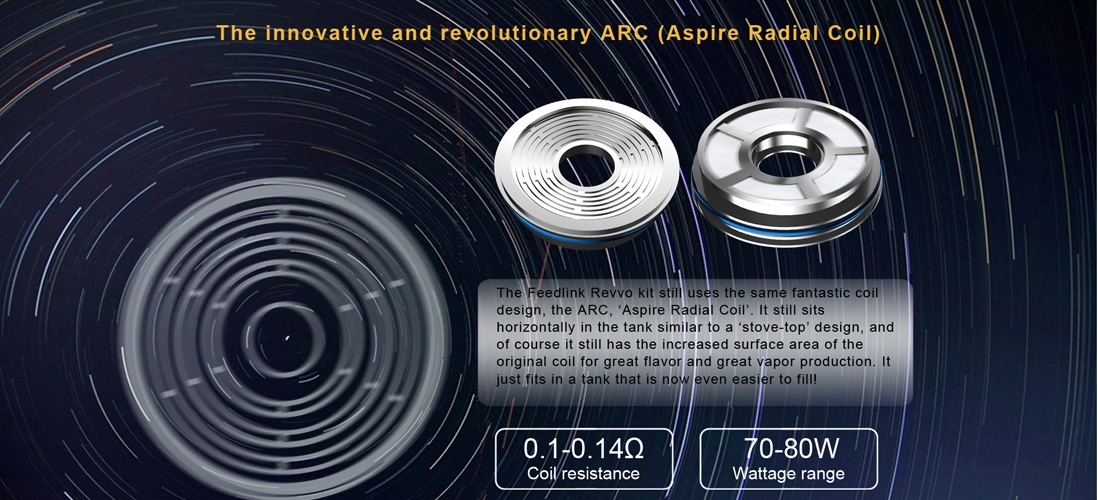 Packing List
✔ 1 x Aspire Feedlink 7ml Squonk mod
✔ 1 x Aspire 2ml Revvo Boost tank
✔ 2 x Coils (0.10-0.14Ω)
✔ 1 x Glass tube
✔ 11 x O-rings
✔ 2 x Warning card
✔ 1 x Warranty card
✔ 1 x User Manual
Note
❤ Please read the user manual carefully before using this device.
Guarantee
♻ 6 months for Feedlink Revvo Kit.

Kalie
Aspire feedlink revvo squonk
Nice little squonker. Very ergonomic and feels great in your hand.

Wendy
Love it!
Love it! fill it before work, and again at home!

Frank
squonk squonk!
Nice, simple squonker. Clever bottle system leaves no mess. Lack of screen allows for sleek, compact footprint. Very ergonomic.

Bevis
Amazing
Great prices, fast shipping, amazing service

Tom
Great flavor
The mod is great for a simple bypass mod. I really like the atomizer, I was expecting more muted of a flavor based on the reviews I read and watched, but it's as good as my 316 builds not quite kanthal but damn good...