Flint Kit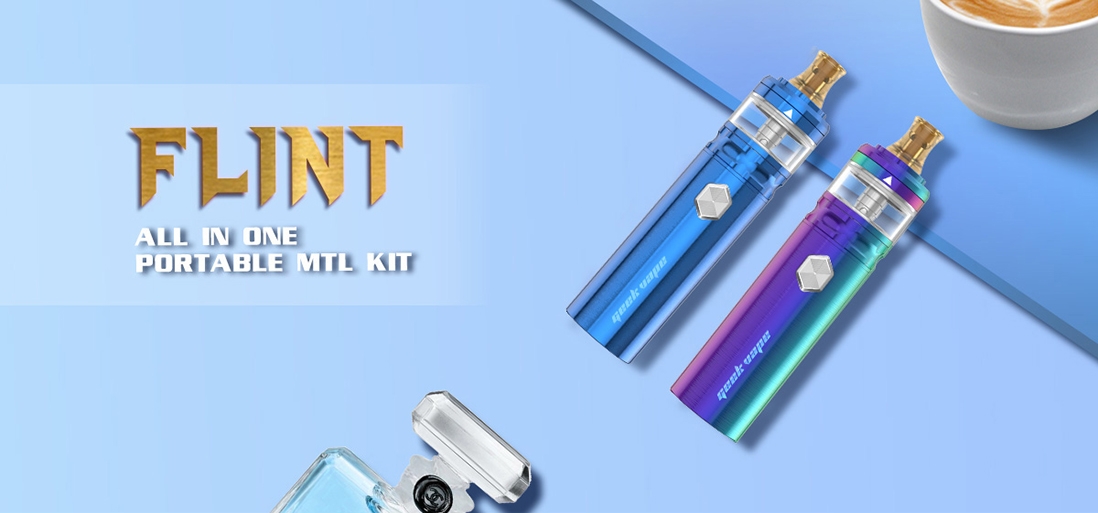 Details
Geekvape Flint Kit Details
| | |
| --- | --- |
| Brand: | Geekvape |
| Product Name: | Geekvape Flint Kit 1000mAh All-in-one Portable MTL Vape Kit |
| SKU: | GET001400 |
| Type: | Starter Kit | Vape Kit | All-in-one Kit |
| Color: | Serenity blue, Gunmetal, Black, Rainbow |
| Launch Date: | November 28, 2018 |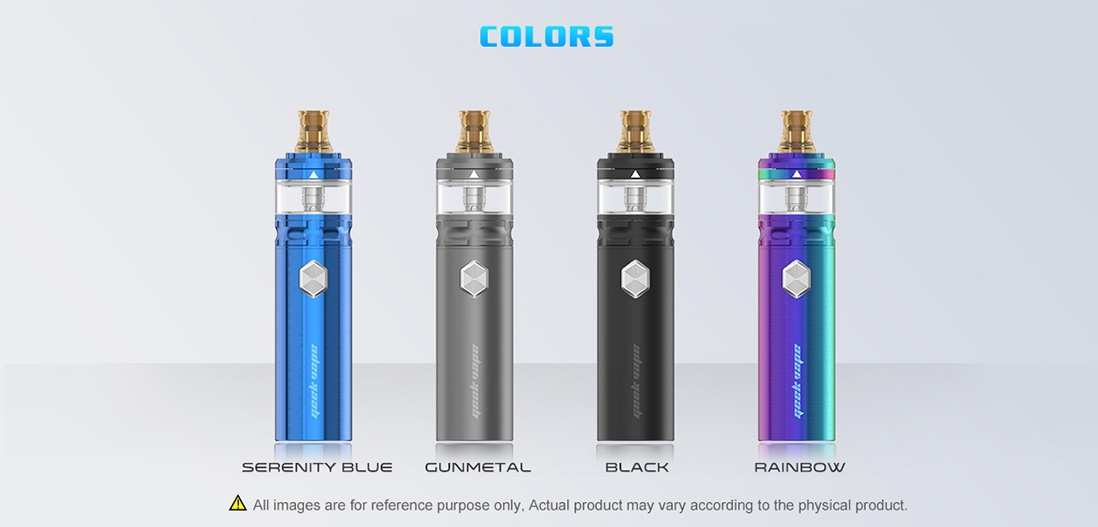 Introduction
Geekvape Flint Kit 1000mAh AIO Starter Kit Introduction
Geekvape Flint Kit is a IPX5 super compact and portable all in one MTL kit. The Flint is powered by 1000mAh built-in battery. The LED indicator can show battery power. With multiple safety protections, you can enjoy a safe vaping experience. It features three available output modes, meeting your different vaping demands. The tank adopts adjustable MTL airflow with perfect restrictions. Featuring a quick slide fill system, it is convenient to refill e-juice. Powered with advanced NS coil system that is specially designed for both nicotine salt e-liquid and regular e-liquid, the Flint Kit will bring you a great MTL vaping. Four colors for your choice!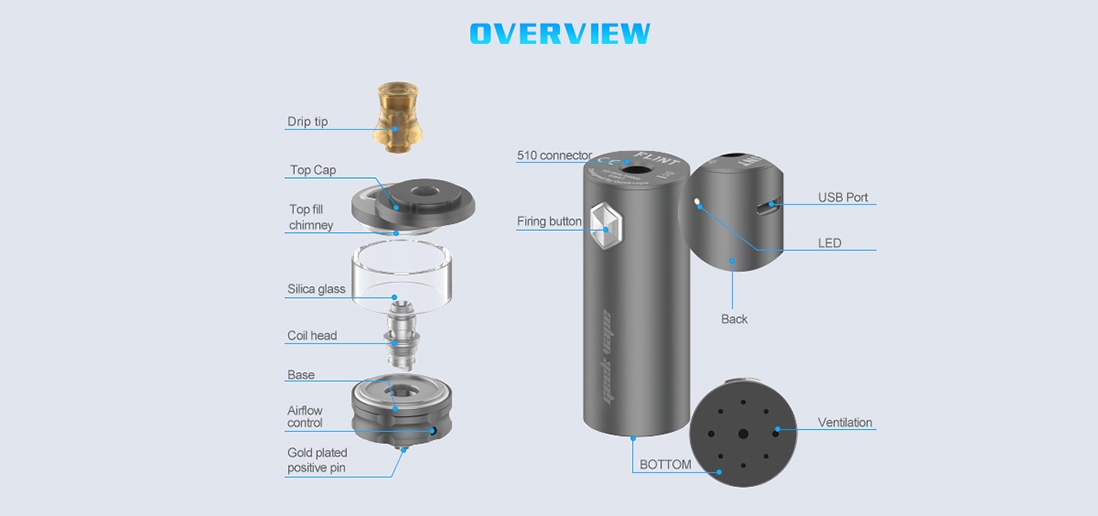 Parameter
Geekvape Flint Kit with Flint Tank Parameter
| | |
| --- | --- |
| Size: | 93.95 x 55.6 x 22mm (with drip tip) |
| Three voltage output: | 3.2v-3.5v-3.8v |
| Atomizer resistance range: | Power mode 0.5ohm~3.0ohm |
| Battery capacity: | 1000mAh |
| Charging specification: | 5V 1A |
| Low voltage warning: | 3.3V±0.1V |
| High-temperature prompt: | PCBA 80℃ |
| Longest vaping time: | 10s |
| Maximum output voltage: | 4.2V |
| Working temperature: | -10~45℃ |
| Standby current: | Less than 10µA |
Features
Geekvape Flint Starter Kit Features
➤ 1. Powered with latest refined NS coil system, clean flavor and longer lifespan
➤ 2. Adjustable MTL airflow with perfect restrictions
➤ 3. Quick slide fill system for convenience
➤ 4. Super compact and portable all in one MTL kit
➤ 5. Innovative LED indicator to show battery power
➤ 6. Three available output modes for personal preference
➤ 7. Multiple safety protections: over-heat protection, short circuit protection, low battery protection, 10 seconds cut-off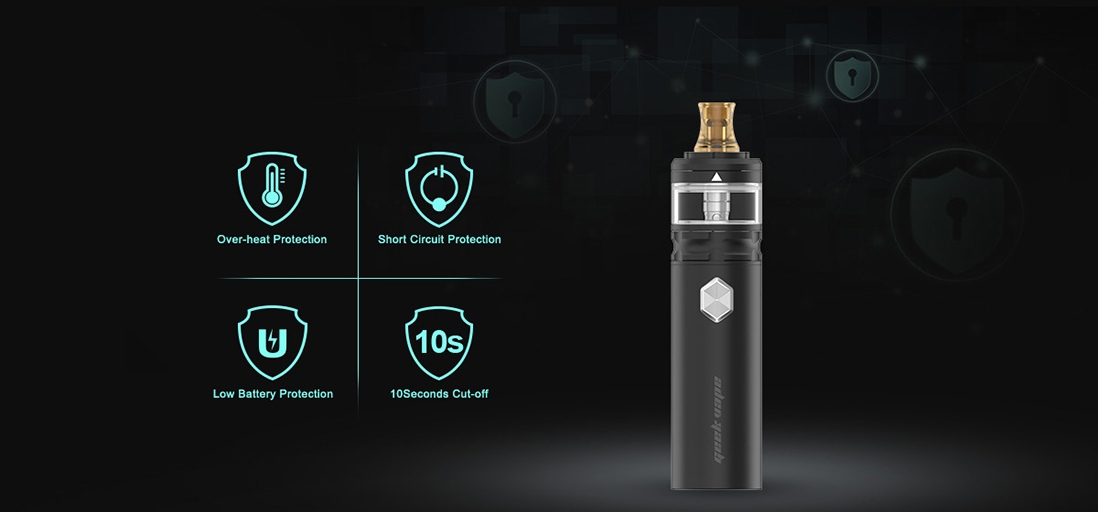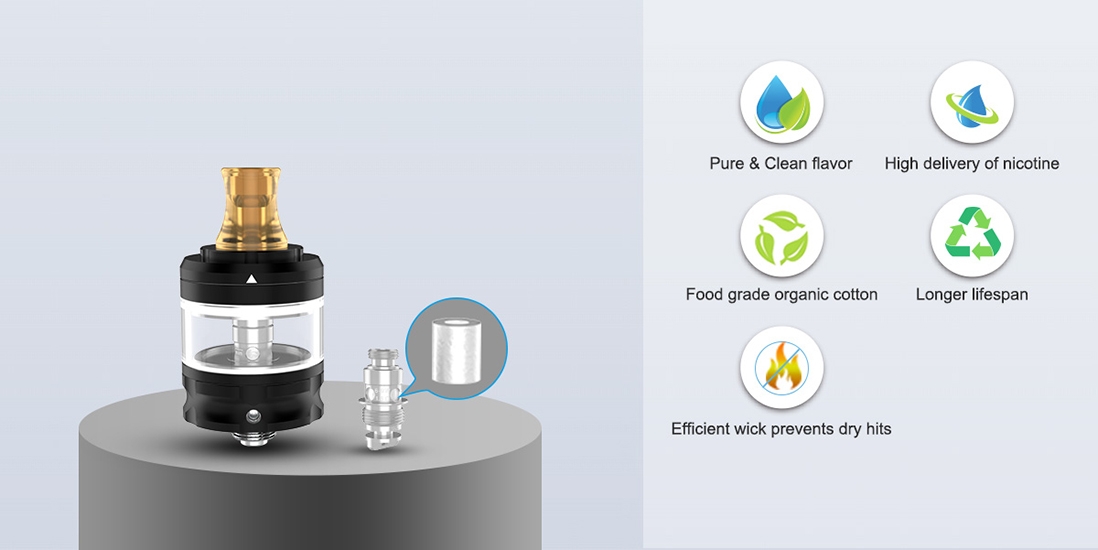 Packing List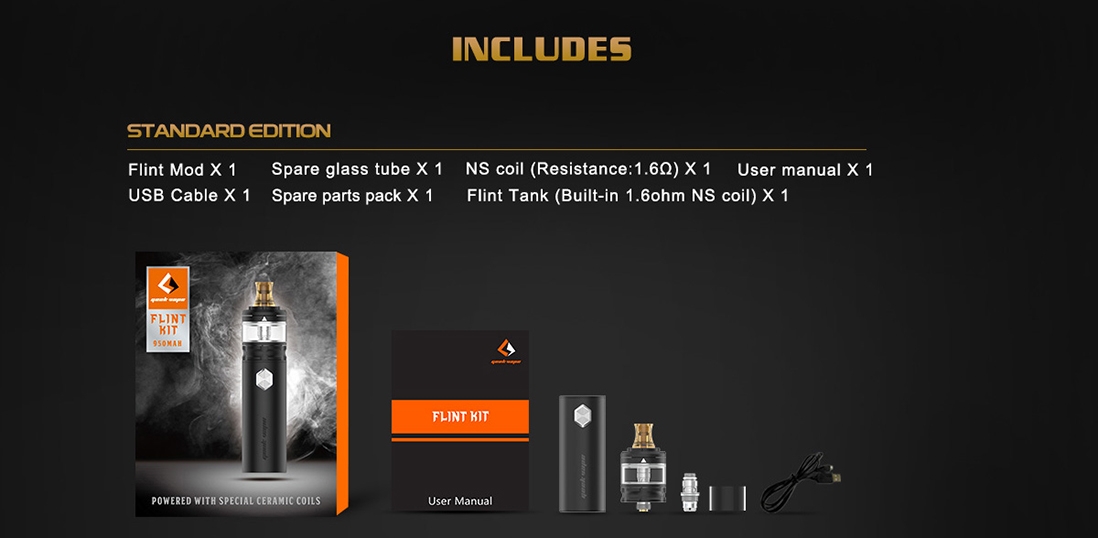 The Package of Flint Kit of Geekvape comes with Standard Edition
✔ Geekvape Flint 1000mAh Mod x 1
✔ Geekvape Flint Tank (Built-in 1.6ohm NS coil) x 1
✔ NS Coil (Resistance: 1.6ohm) x 1
✔ USB cable x 1
✔ Spare glass tube x 1
✔ Spare parts pack x 1
✔ User manual x 1
Simple packing. Customary packing from the factory, the packing is subject to change without notice.
How To Use
How to charge Flint?
Simply charge Flint by connecting it with a computer, a power bank, a wall adapter or other electronic devices (with a USB port that is capable of providing a charge) via USB cable, also you can purchase an inexpensive USB car adapter, thereby affording you the ability to charge the Flint in the car. This is particularly useful while you are on long drives and road trips.
Note
Note for Geekvape Flint Kit
❤ Please read the user manual carefully before using this Geekvape Flint Kit.
Guarantee
Geekvape Flint Kit 1000mAh AIO MTL Starter Kit Guarantee
☞ 6 months warranty period for Geekvape Flint Kit.