Mowell Shake Kit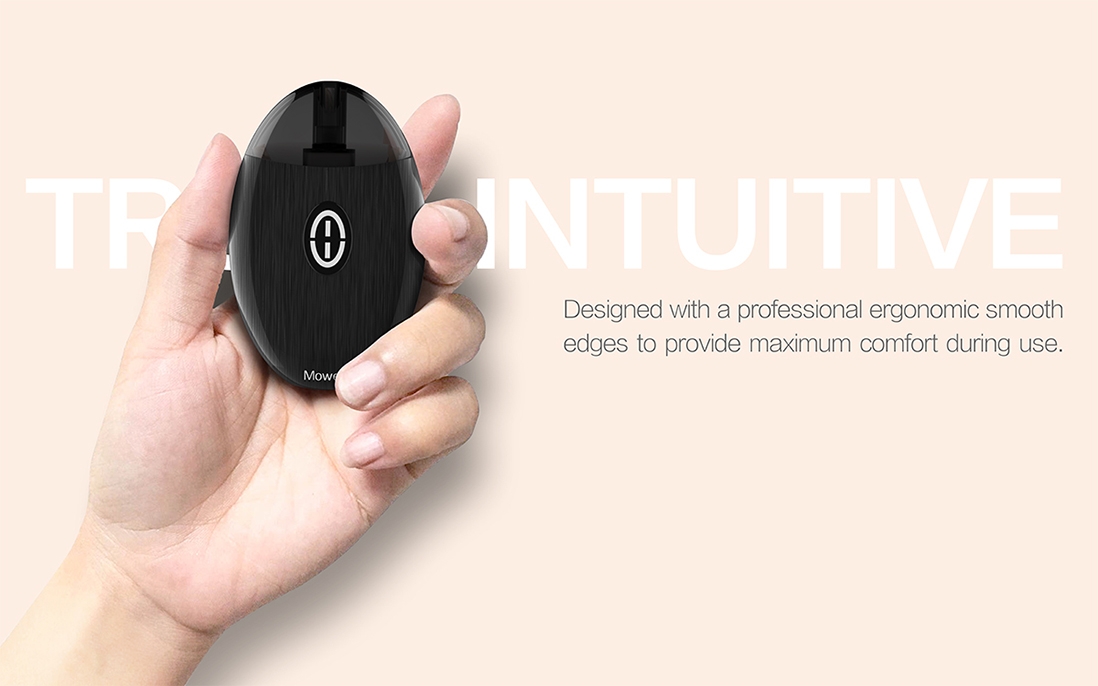 Details
| | |
| --- | --- |
| Brand: | Mowell |
| Product Name: | Mowell Shake AIO Pod Kit 400mAh Battery with 2ml Cartridge |
| SKU: | MWT000100 |
| Type: | Starter Kit/ Vape Kit/ AIO Kit |
| Color: | Dream Color, Gun Grey, Jasper Red, Fruit Green, Ocean Blue |
| Launch date: | July 15th, 2018 |
Introduction
Mowell Shake AIO Pod Kit comes with 400mAh built-in battery and 2ml cartridge. It is designed with a professional ergonomic smooth edge to provide maximum comfort during use. The kit features cobblestone design with portable size. The Mowell Shake can be charged via its Micro USB Port. Besides, you can shake it to wake the system and flashing green light indicators system is awakened. Multiple color options to fit your style.
Parameter
| | |
| --- | --- |
| Size: | 48mm*12mm*75mm |
| Weight: | 58g |
| Battery capacity: | 400mAh |
| Cartridge capacity: | 2ml |
| Power: | 12W |
| Material: | Zinc Alloy |
| Cartridge Material: | PC |
| Charging type: | Micro USB charging |
Features
➤ 1. Professional ergonomic smooth edges
➤ 2. Cobblestone design with portable size
➤ 3. 400mAh battery with 2ml cartridge
➤ 4. Micro USB charging
➤ 5. Charging red light & full charge green light. ➤ 6. G-sensor function, simple and easy, shake once to wake the system.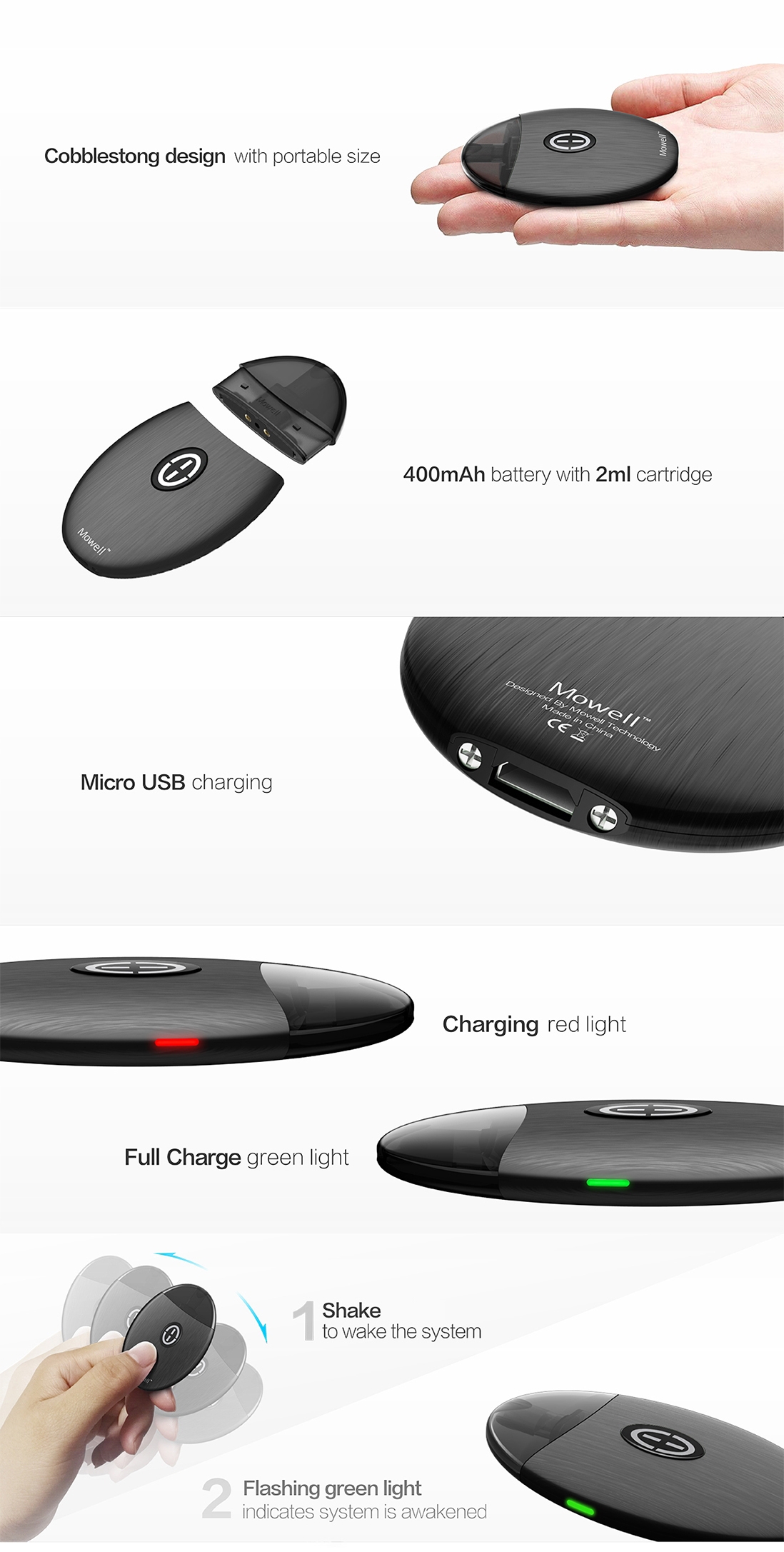 Packing List
✔ 1 x Mowell Shake Kit 400mAh Battery with 2ml Cartridge
✔ 1 x USB Cable
✔ 1 x User Manual
Open Box
Real Shot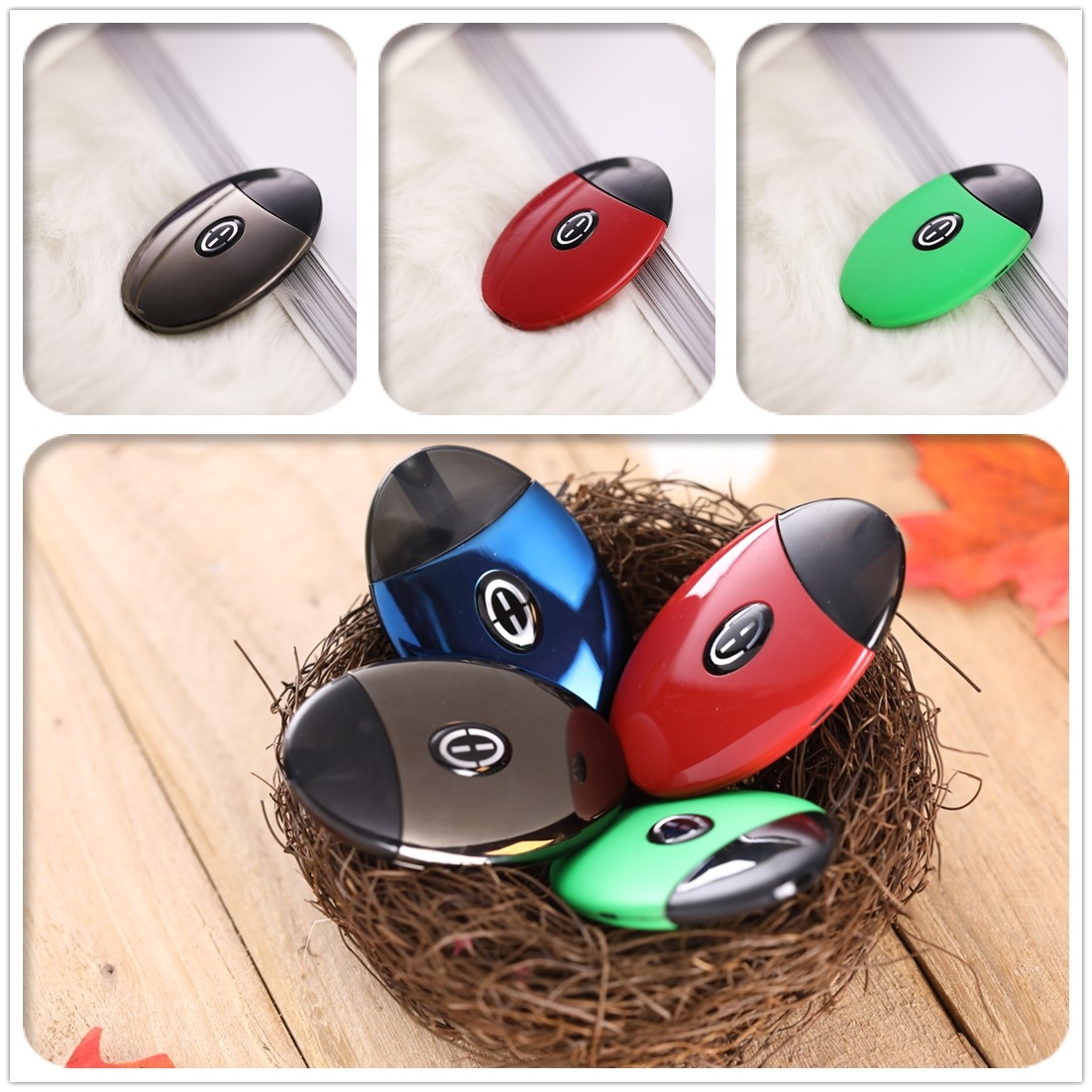 How To Use
➥ 1. Pull out the smoke cartridge
➥ 2. Remove the thin layer of plastic film from the bottom of the cartridge.
➥ 3. Position the smoke cartridge flat side up, then open the silicone plugs to inject oil into the injection holes.
➥ 4. Close the silicone plugs and let Mowell sit for 10 minutes fefore use, so that the oil can completely soaked by the cotton,
➥ 5. insert the smoke cartridge back in its place, indicated by a "click"s. LED will light up if the smoke cartridge is well placed.
➥ 6. Shake Mowell Shake and LED will flash, showing that the system is working.
➥ 7. Enjoy the pleasure of your Vaping.

Note
❤ Please read the user manual carefully before using this Mowell Shake All-in-one Pod Kit.
&#10084 Simply charge Shake by connecting it with a computer, a power bank, a wall adapter or other electronic devices (with a USB port that is capable of providing a charge) via USB cable, also you can purchase an inexpensive USB car adapter, thereby affording you the ability to charge the Shake in the car. This is particularly useful while you are on long drives and road trips.
Guarantee
☞ 6 months warranty period for Mowell Shake Kit.