Yosta IGVI P2 Mesh Coil
Details
| | |
| --- | --- |
| Brand: | Yosta |
| Product Name: | Yosta IGVI P2 Replacement Mesh Coil 0.15ohm |
| SKU: | YXW00010000 |
| Type: | Coil Head |
| Launched Time: | May 6, 2018 |
Introduction
The Yosta IGVI P2 Mesh Coil is designed for Yosta IGVI P2 Atomizer. The resistance of the coil is 0.15ohm and it can be run at 35-65W. Compared with traditional coil, it features a wider heating area and faster heating speed, ensuring you preferable flavor and huge vapor. Besides, the IGVI P2 Mesh Coil has a longer life span.
Parameter
| | |
| --- | --- |
| Resistance: | 0.15ohm |
| Wattage: | 35-65W |
| Fit for: | Yosta IGVI P2 Atomizer |
Features
➤ 1. Perfectly compatible with Yosta IGVI P2 Atomizer
➤ 2. 0.15ohm coil resistance
➤ 3. Rated for 35-65W
➤ 4. Wider heating area, faster heating speed, longer life span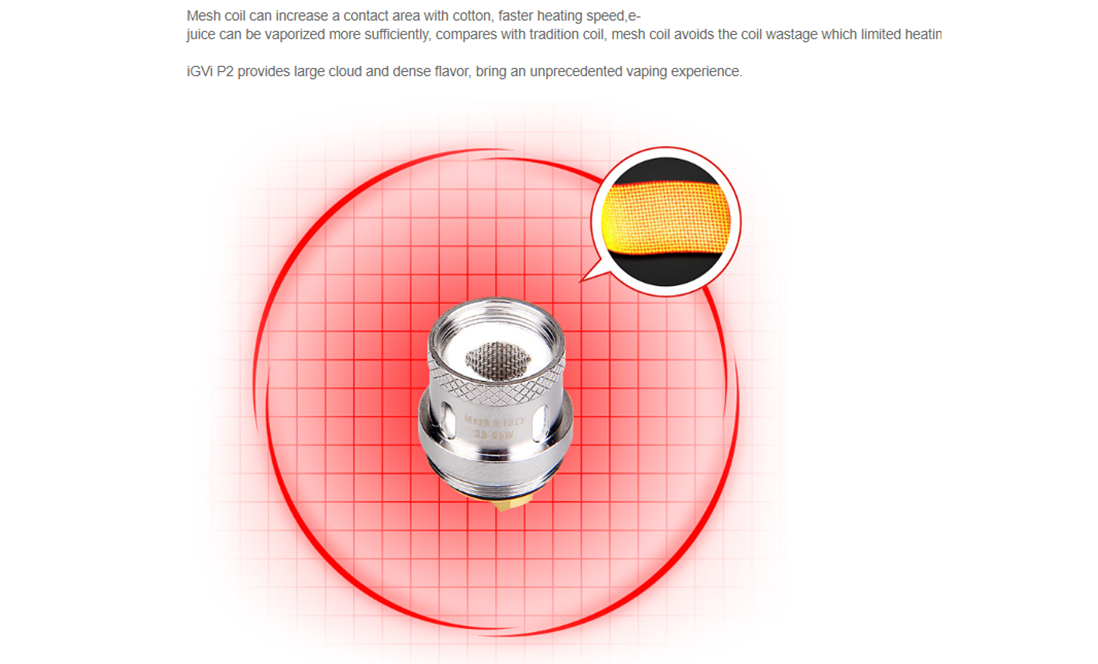 Packing List
✔ 5 x Yosta IGVI P2 Replacement Mesh Coil
Note
❤ Please read the user manual carefully before using Yosta IGVI P2 Mesh Coil.
❤ Please drip a few drops e-liquid into the head and inhale a few times in power-off condition before its first use to avoid dry burn.
❤ Please don't wash the head with water. Simply scrub it with cotton or clean dry cloth.