Aspire Tigon Kit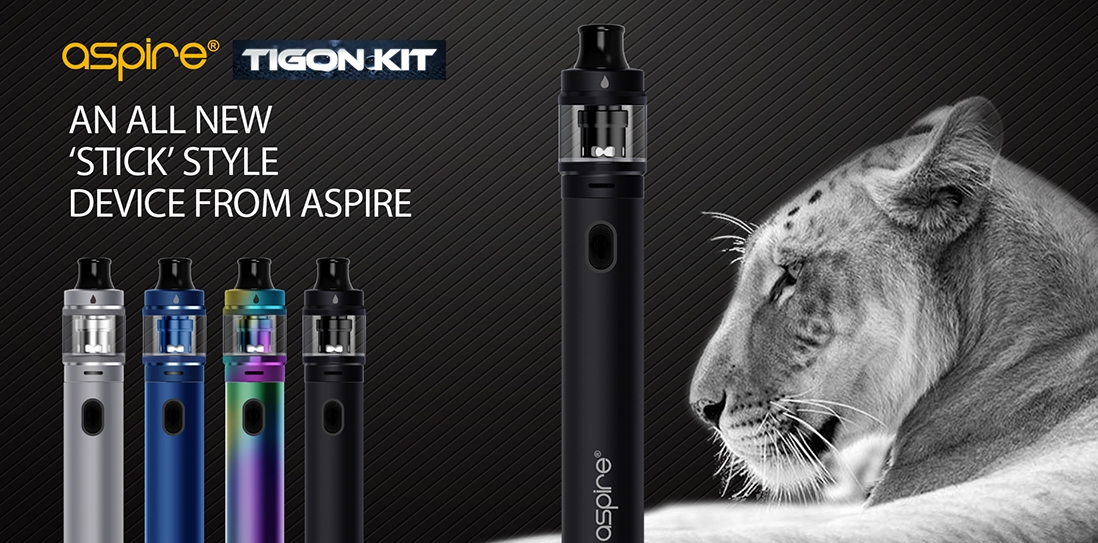 Aspire Tigon Vape Kit Details
| | |
| --- | --- |
| Brand: | Aspire |
| Product Name: | Tigon Kit |
| SKU: | AST004100 |
| Type: | Starter Kit | Vape Kit |
| Color: | Stainless Steel, Blue, Rainbow, Black |
| Launch Date: | January 16, 2019 |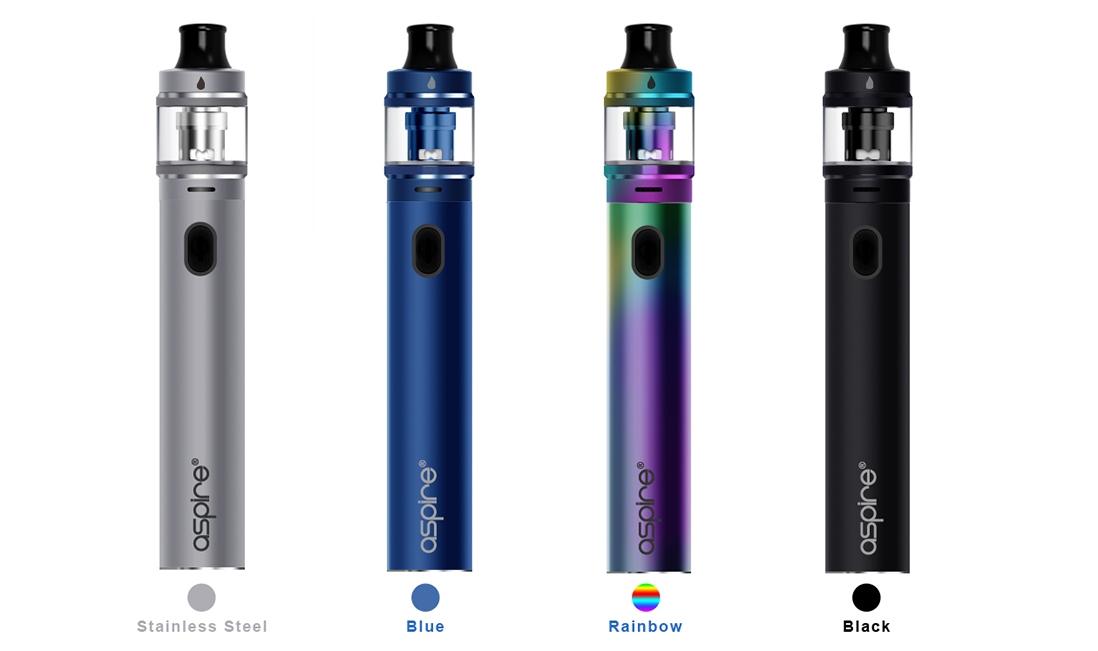 Aspire Tigon Starter Kit Introduction
Aspire Tigon Kit is an all new 'stick' style device as well as an easy to use 'child safe' compact device, which can be used as an MTL (mouth to lung) or a restricted DTL (direct to lung) vape. It is powered by 2600mAh built-in battery and works in 'By-Pass' mode. It uses an ingenious design that will seal the wicking holes in the tank when the coil is removed. The capacity of the tank is 3.5ml. It features dual function airflow settings and convenient top filling solution. In addition, the package includes Aspire Tigon 0.4ohm coil and Aspire Tigon 1.2ohm coil.
Parameters of Aspire Tigon Vape Pen Kit
| | |
| --- | --- |
| Size: | 142 x 24.5mm |
| Thread: | 510 |
| Battery: | 2600mAh |
| Tank Capacity: | 3.5ml |
| Coil Resistance: | 1.2Ω (10-12W) & 0.4Ω (23-28W) |
| Output Mode: | Bypass Mode |
| Output Voltage: | 3.3-4.2V |
| Continuous Firing Time: | 10 seconds |
| Coil Compatible: | Aspire Tigon 0.4ohm Coil (23-28W), Aspire Tigon 1.2ohm Coil (10-12W) |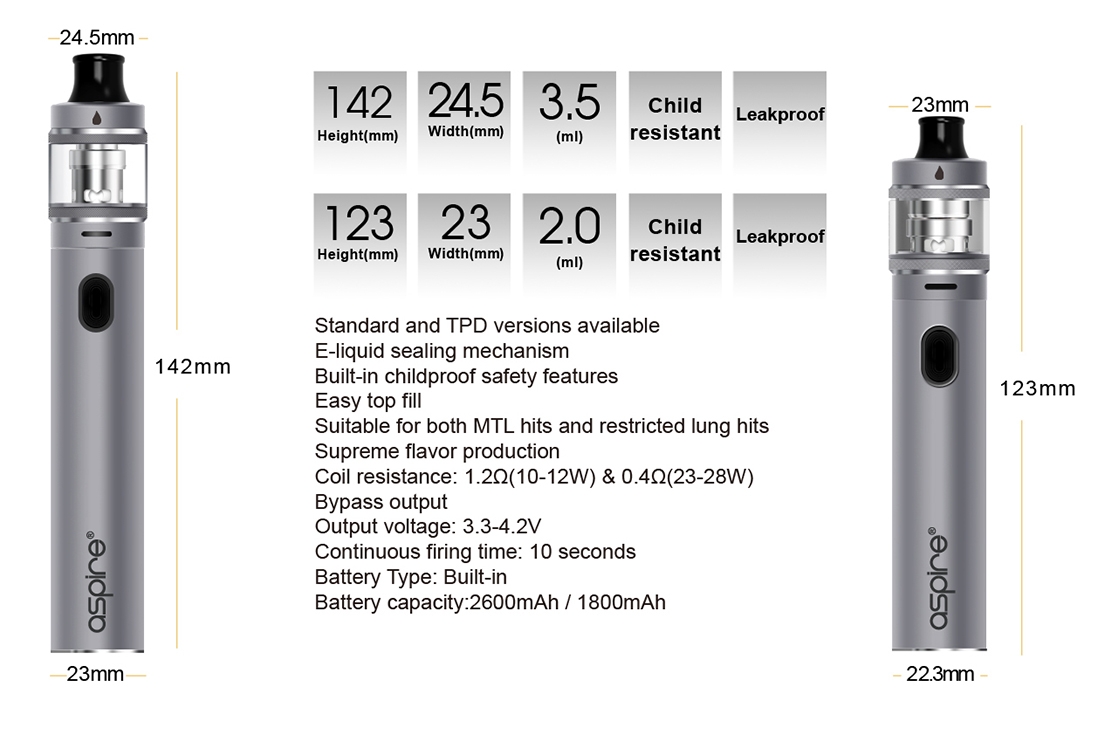 Features of Aspire Tigon Pen Kit
➤ 1. 2600mAh built-in battery & 24.5mm 3.5ml Tigon
➤ 2. New dual function airflow settings for MTL & DTL vaping
➤ 3. Adjustable airflow control with 5 holes
➤ 4. Convenient top filling solution
➤ 5. Ingenious self-sealing coil housing
➤ 6. Multiple safety protections
➤ 7. Aspire Tigon 0.4ohm coil and Aspire Tigon 1.2ohm coil included
➤ 8. Two Aspire Tigon drip tips included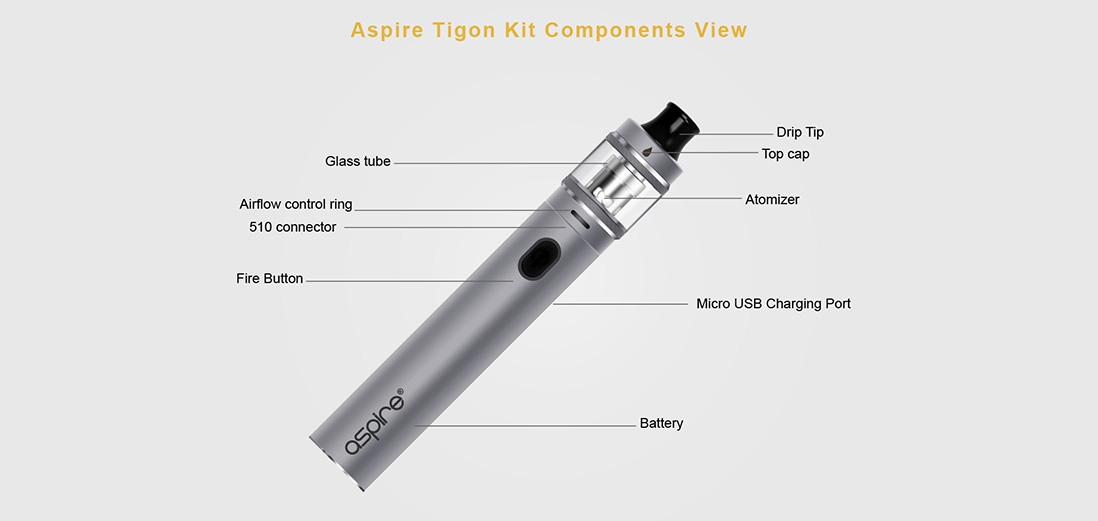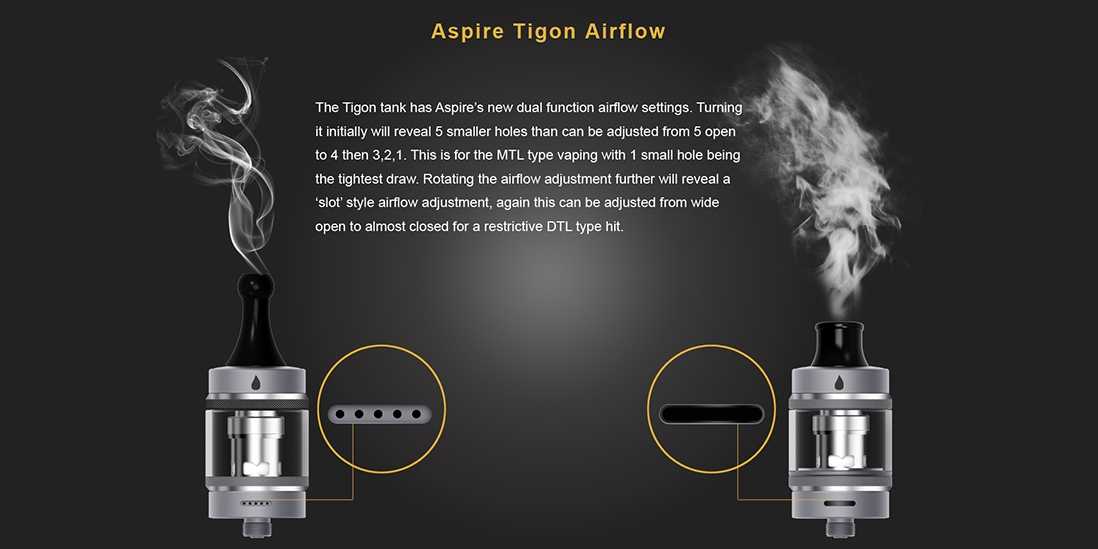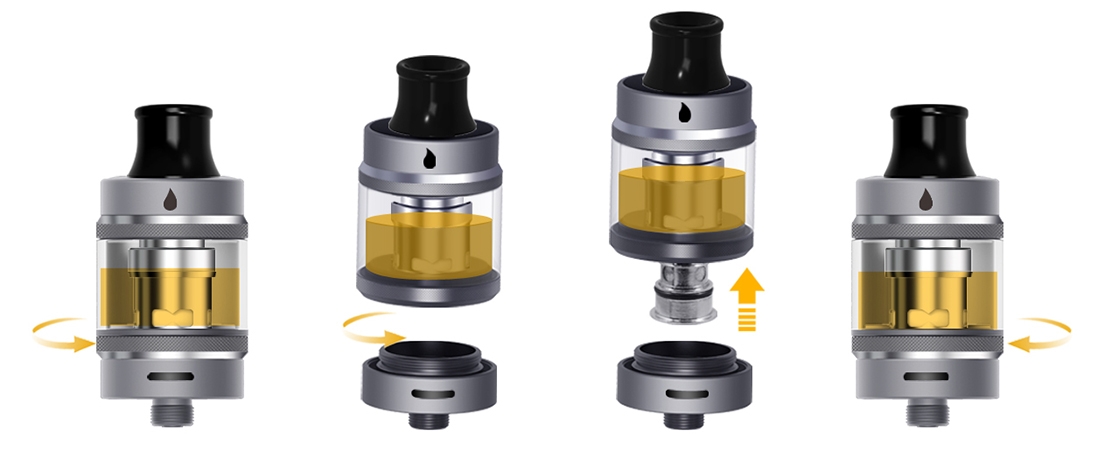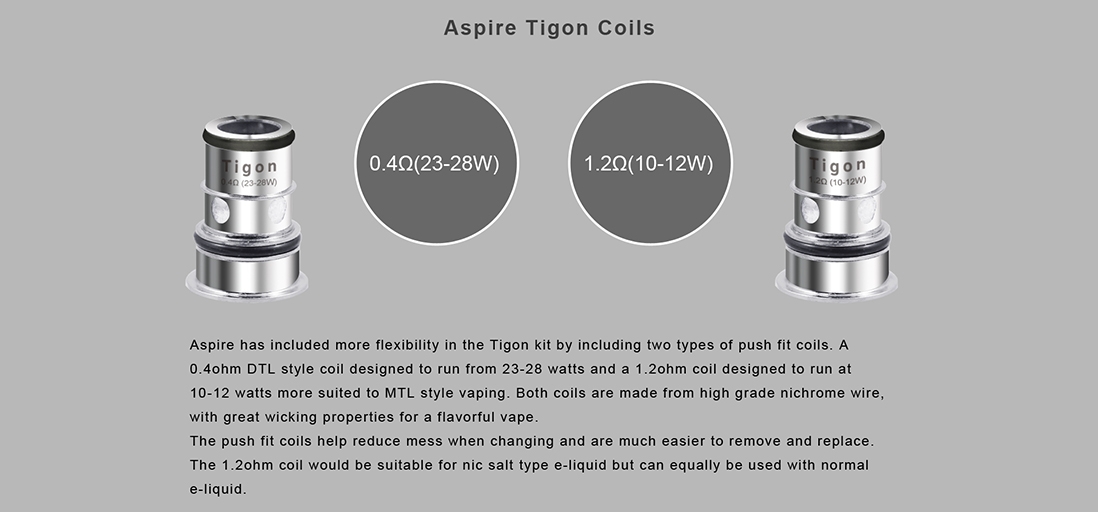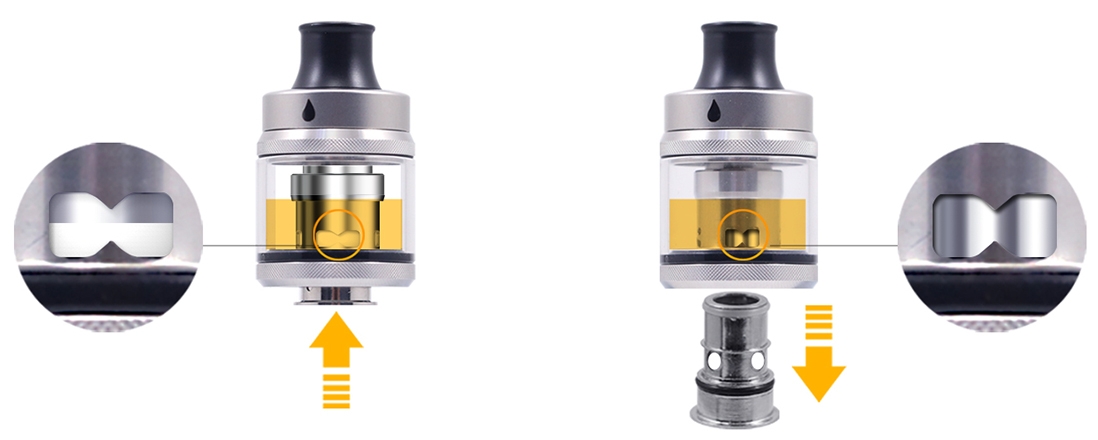 Aspire Tigon Kit Includes
✔ 1 * Aspire Tigon Kit (3.5ml)
✔ 1 * Glass Tube
✔ 1 * Extra Drip Tip
✔ 2 * Coils (1*0.4Ω Pre-installed & 1*1.2Ω)
✔ 10 * O-rings
✔ 1 * Warranty Card
✔ 1 * User Manual
✔ 1 * USB Cable
Simple packing. Customary packing from the factory, the packing is subject to change without notice.
How to charge Tigon Battery?
Simply charge Tigon Battery by connecting it with a computer, a power bank, a wall adapter or other electronic devices (with a USB port that is capable of providing a charge) via USB cable, also you can purchase an inexpensive USB car adapter, thereby affording you the ability to charge the Tigon battery in the car. This is particularly useful while you are on long drives and road trips.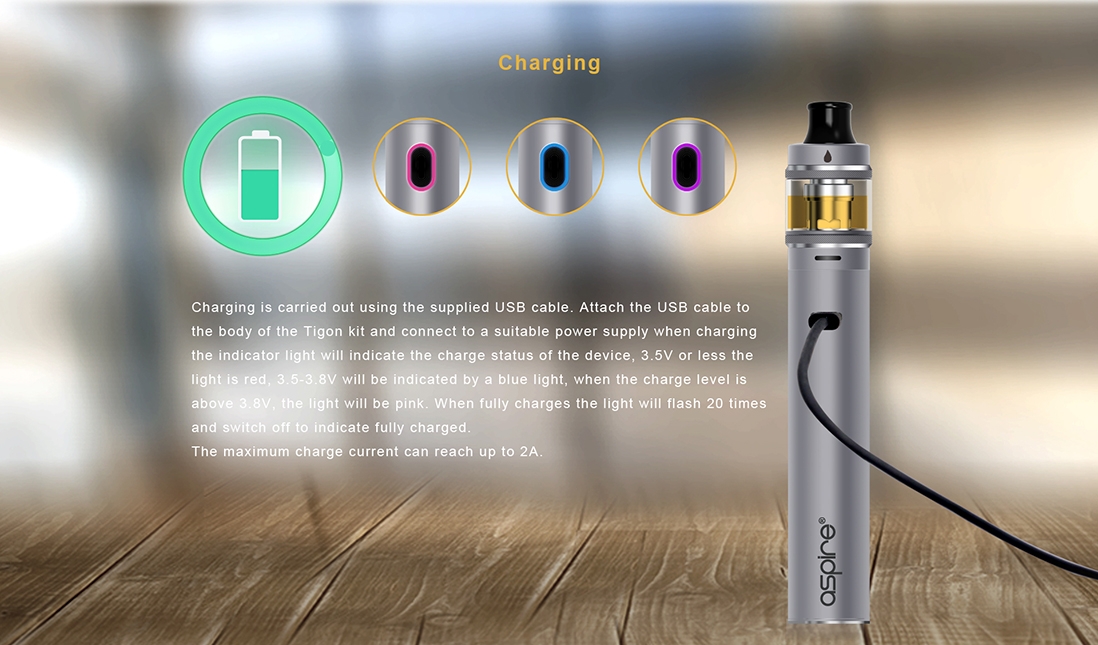 Aspire Tigon Kit Real Shots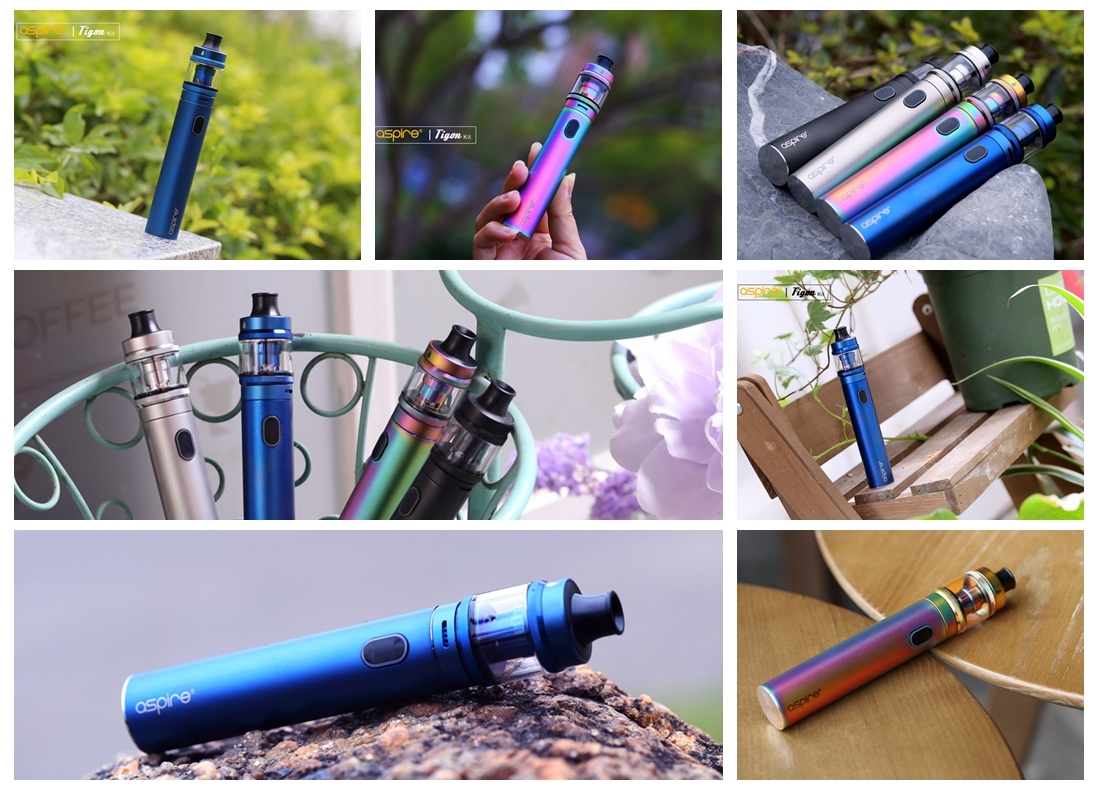 Aspire Tigon Kit Note
❤ Please read the user manual carefully before using this Aspire Tigon Vape Kit.
Aspire Tigon Vape Kit Guarantee
☞ 6 months warranty period for Aspire Tigon Vape Kit.