Eleaf iStick Pico X 75W Box Mod
Eleaf iStick Pico X Mod Details
| | |
| --- | --- |
| Brand: | Eleaf |
| Product Name: | iStick Pico X |
| SKU: | ELM003500 |
| Type: | Box Mod | Vape Mod |
| Color: | black, red, blue, silver, green |
| Launch Date: | December 6, 2018 |
Eleaf iStick Pico X Mod Introduction
The Eleaf iStick Pico X Mod upgrades with a new intelligent wattage recommending system. Powered by a single 18650 battery, the small sized box mod can reach up to 75W. Adopting an ergonomic and compact design with a rubber paint finish, it is very comfortable to hold and carry. It is equipped with a 0.69-inch screen and offers 3 different interfaces for you to choose from: Puff interface, Time interface and Voltage interface. With multiple safety protections, you can enjoy a safe vaping environment. The iStick Pico X can handle various tanks up to 22mm diameter without any overhang.
Parameters of Eleaf iStick Pico X 75W Box Mod
| | |
| --- | --- |
| Size: | 50mm*31mm*73mm |
| Display: | 0.69-inch OLED screen |
| Battery type: | single 18650 (NOT included) |
| Output wattage: | 75W max |
| Output voltage: | 0.5V-9V |
| Resistance range: | 0.1Ω-3.0Ω (VW/Bypass mode), 0.05Ω-1.0Ω (TC-Ni/Ti/SS/M1/M2/M3 mode) |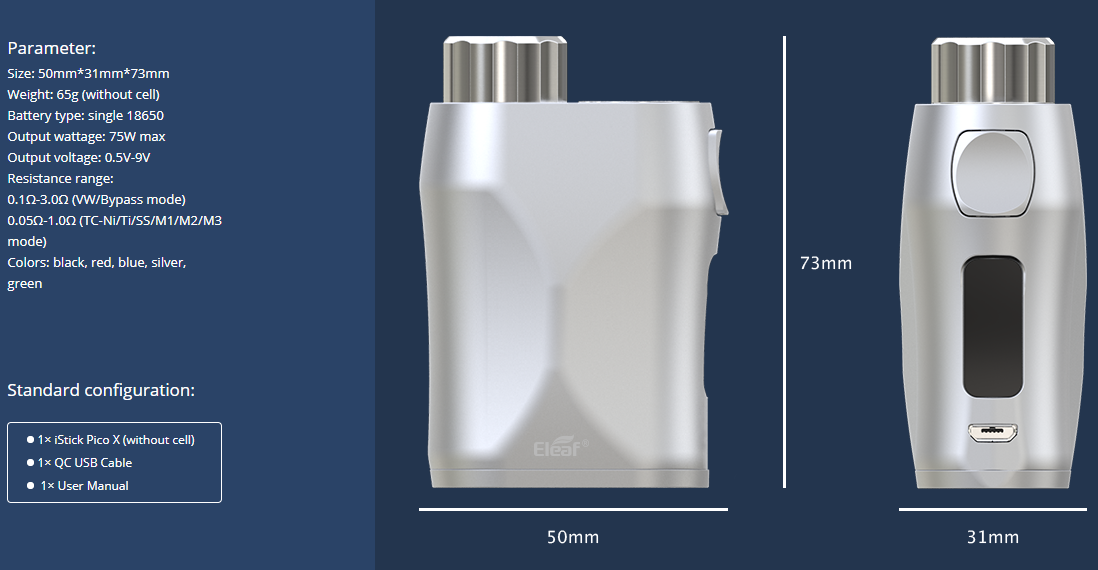 Features of Eleaf iStick Pico X 75W Box Mod
➤ 1. Intelligent Wattage Recommending System
➤ 2. Ergonomic and Compact Design, Comfortable to Hold and Carry
➤ 3. Rubber Paint Finish, Soft and Smooth to Touch
➤ 4. Concise 0.69-inch Screen with Optional Interfaces
➤ 5. Powered by a Single 18650 Battery with 75W Output
➤ 6. Handle Various Tanks up to 22mm Diameter without Any Overhang
➤ 7. Multiple Protections for Safety Vaping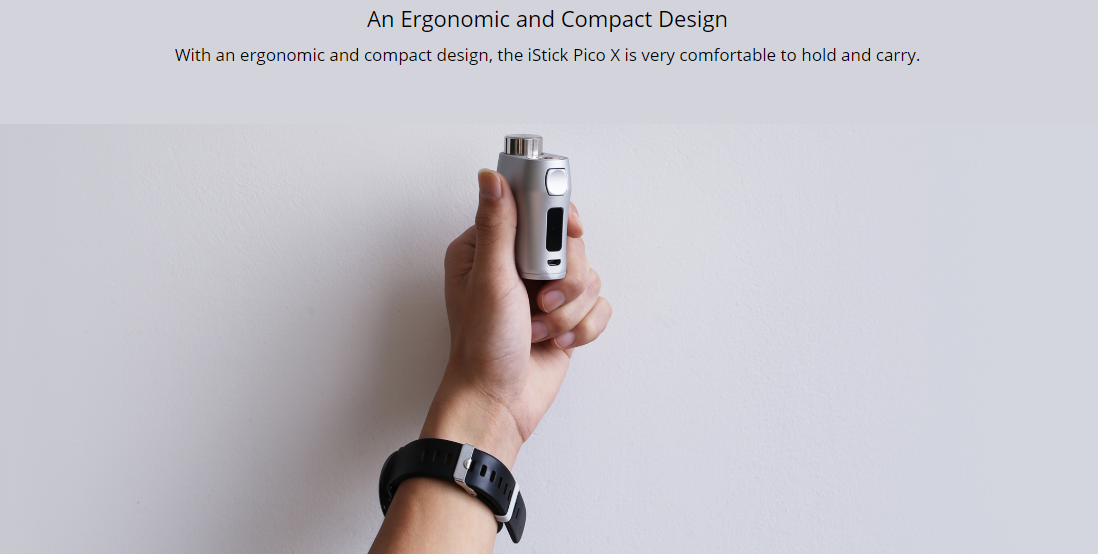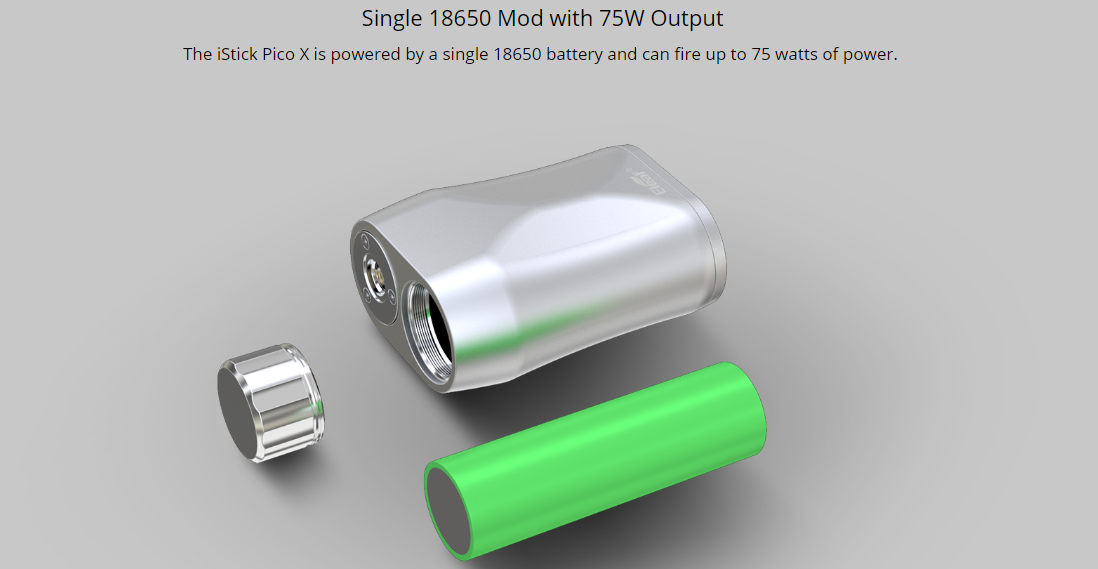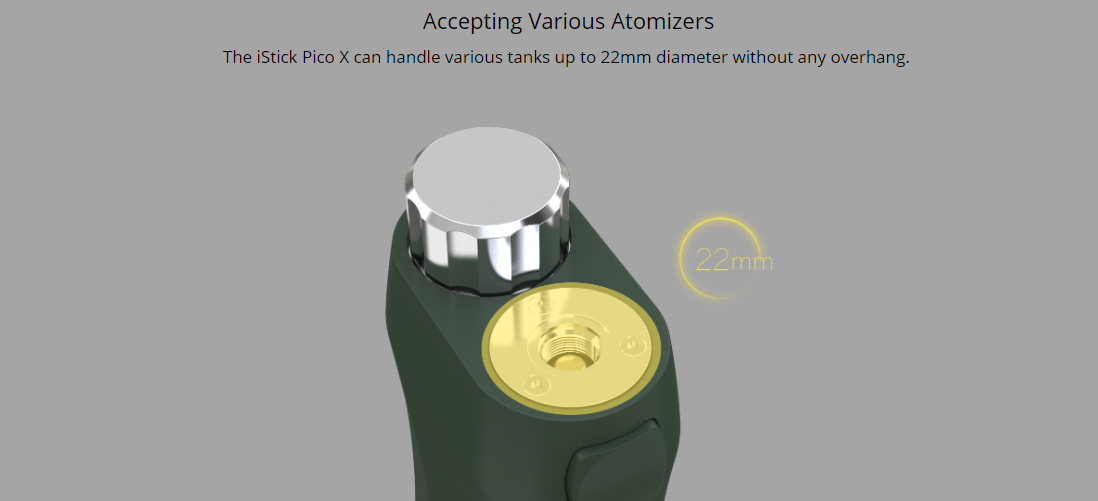 Eleaf iStick Pico X Mod Includes
✔ 1 x Eleaf iStick Pico X Mod (without cell)
✔ 1 x QC USB Cable
✔ 1 x User Manual
Simple packing. Customary packing from the factory, the packing is subject to change without notice.
How to use iStick Pico X?
How to charge iStick Pico X?
Charging: the 18650 battery can be charged in the iStick Pico X through the USB port via wall adapter or computer or charged with an external battery charger.
How to upgrade iStick Pico X?
The firmware can be upgraded by connecting the device with a computer through the USB port via a micro USB cable.
Eleaf iStick Pico X Mod Note
❤ Please read the user manual carefully before using this Eleaf iStick Pico X Mod.
Eleaf iStick Pico X Mod Guarantee
☞ 3 months warranty period for Eleaf iStick Pico X Mod.