LYCHE Atomizer with RBA Head
Details
| | |
| --- | --- |
| Brand: | Eleaf |
| Product Name: | Eleaf LYCHE Atomizer with RBA Coil 4ml |
| SKU: | ELW001900 |
| Type: | Atomizer/ Vape Tank/ Sub Ohm Tank |
| Color: | Silver, Black |
| Launch Date: | August 28th, 2018 |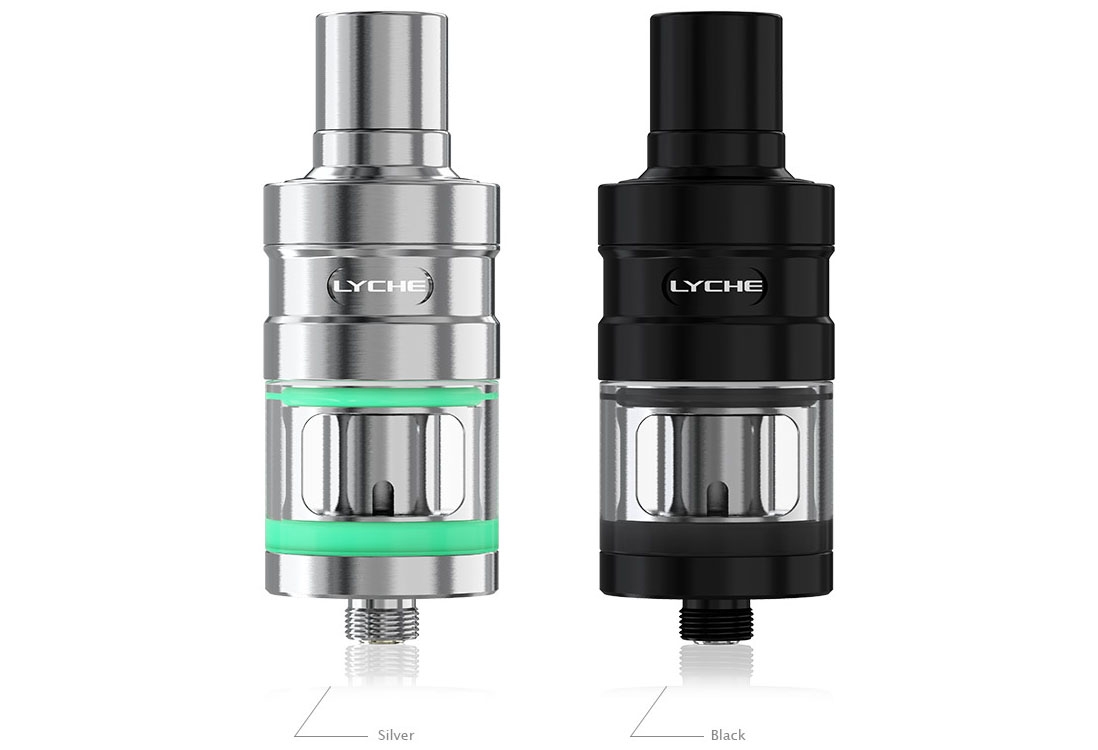 Introduction
Eleaf LYCHE Atomizer is 22mm in diameter and holds 4ml e-liquid capacity. Applied the most popular stainless steel Notchcoil™ that can work with high wattage Mods, the atomize will bring you an ultimate vaping experience with nice flavor and large vapor. Coming with the bottom leakproof cup design, side e-liquid filling solution and top airflow control system, the LYCHE is fashionable and it is easy to use.
Parameter
| | |
| --- | --- |
| Length: | 59mm |
| Diameter: | 22mm |
| Capacity: | 4ml |
| Resistance: | 0.25ohm (40-60W) |
| Thread type: | 510 thread |
| Material: | stainless steel |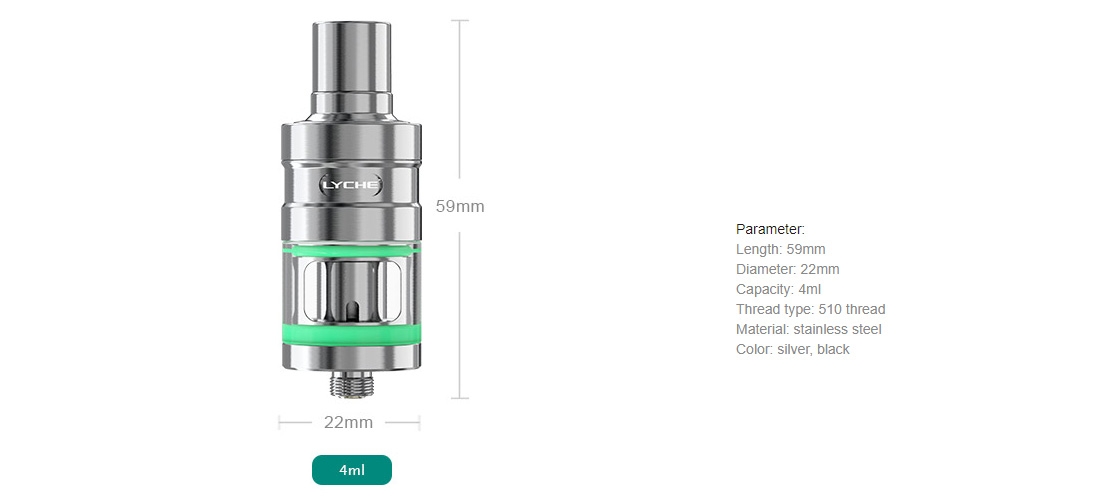 Features
➤ 1. Work with stainless steel Notchcoil™ (NC 0.25ohm Head)

➤ 2. Bottom cup design to prevent e-liquid leakage

➤ 3. Convenient side e-liquid filling system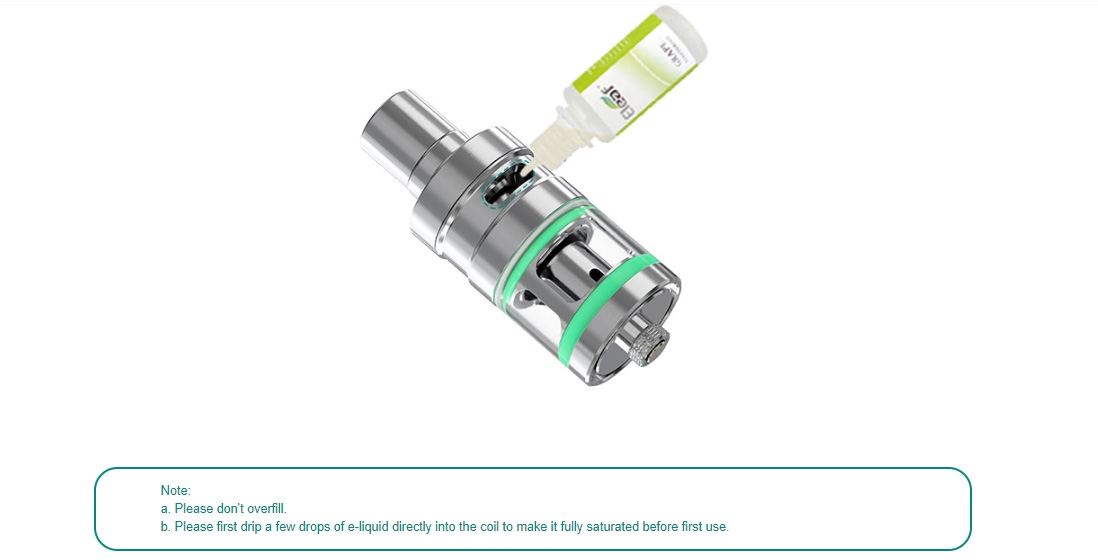 ➤ 4. Top airflow control with fashionable appearance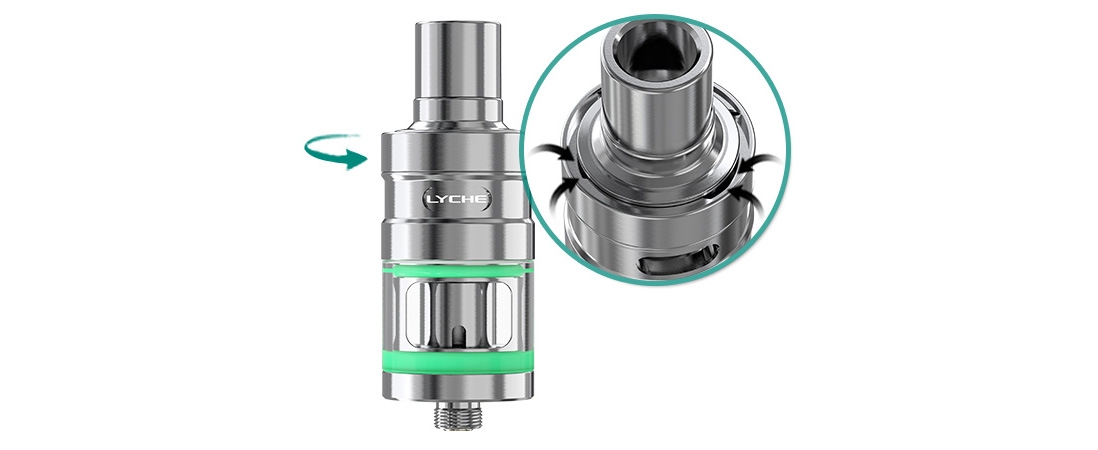 ➤ 5. Large e-liquid capacity of 4ml and 22mm diameter

Packing List
✔ 1 x Eleaf LYCHE Atomizer 4ml
✔ 1 x NC 0.25ohm Head
✔ 1 x Dual 0.25ohm Head
✔ 1 x LYCHE RBA Head
✔ 2 x Seal Ring
✔ 1 x User Manual
How To Use
1. First drip a few drops of e-liquid into the coil to make it fully saturated.
2. Then screw the atomizer head onto the top cap tightly, screw the atomizer base with glass tube onto the top cap tightly and finally put the mouthpiece on.
3. Rotate counterclockwise the regulation ring to open the e-liquid fill hole. Then slowly refill e-liquid into the LYCHE atomizer. Close the e-liquid fill hole by rotating clockwise the regulation ring. (Note: please don't overfill and take several puffs without activating the atomizer before use.)
4. The amount of airflow can be adjusted by rotating the airflow control ring on the top cap so as to get different vaping experiences, clockwise to increase and counterclockwise to decrease.
Note
❤ Please read the user manual carefully before using this LYCHE Atomizer with RBA Head.
❤ The Eleaf LYCHE RBA Head is also available in Cloumix.
Guarantee
☞ 3 months warranty period for LYCHE Atomizer with RBA Coil.