Eleaf Mini iStick 10W Battery Full Kit
Details
| | |
| --- | --- |
| Brand: | Eleaf |
| Product Name: | Mini iStick 10W Battery |
| Type: | Vape Mod |
| Color: | black, sliver, red, blue |
Introduction
Eleaf Mini iStick 10W Battery is the tinier and simplified version of the Eleaf iStick family,only 32.5mm * 21 mm * 52mm in size. With a ultra light body, it is convenient to hold and carry and easy to put in the pocket even if the atomizer is installed. Despite its very short stature, its battery capacity is as high as 1050mAh and its maximum output power is 10W. There is an LED digital display on the top of the Eleaf Mini iStick, which can clearly display Vaping data including vaping seconds, current voltage, and battery power. On the side of its body, there are two adjustment buttons, you can easily adjust the voltage in the range of 3.3V to 5V. There is also a USB charging port on the body, and it only takes 1.5 hours to fully charge your device.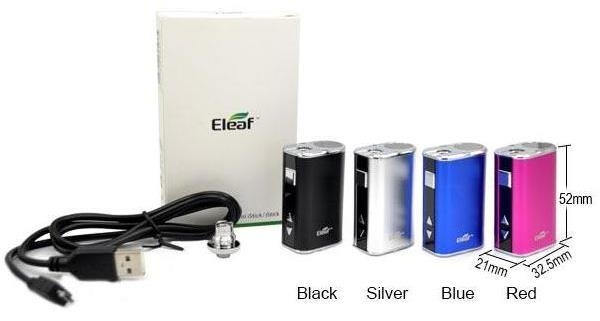 Parameter
| | |
| --- | --- |
| Size: | 32.5mm * 21 mm * 52mm |
| Voltage: | 3.3V-5.0V |
| Wattage: | 10W max |
| Capacity: | 1050mAh |
| Thread Type: | 510 Thread |
Features
➤ 1. It has 1050mAh battery capacity and 10W max output.
➤ 2. Features adjustable voltage.
➤ 3. Easy to use with top LED digital display.
➤ 4. It is compatible with GS16S tank.

Packing List
✔ 1 x Eleaf Mini iStick 1050mAh 10W battery
✔ 1 x User Manual
✔ 1 x eGo adapter
✔ 1 x USB cable
Note
❤ Please read the user manual carefully before using this device.
Guarantee
♻ 3 months for Mini iStick battery.