Maskking Nightingale Kit
Maskking Nightingale Starter Kit Details
| | |
| --- | --- |
| Brand: | Maskking |
| Product Name: | Nightingale Kit |
| SKU: | MKT000100 |
| Type: | Starter Kit | Vape Kit |
| Color: | Blue, White |
| Launch Date: | December 24, 2018 |
Maskking Nightingale Kit 2ml Introduction
Maskking Nightingale Kit consists of one 1100mAh Nightingale Mod and two 2ml Clearomizers. The magnetic dust-proof cap is also included, making the mouthpiece cleaner and more hygienic. Featuring bottom LED ring light, the device is fashionable and beautiful. It provides multiple protections to ensure a safe vaping environment. Moreover, with the ceramic core, the Nightingale Kit can produce delicate flavor.
Parameters of Mask King Nightingale Kit
| | |
| --- | --- |
| Size: | 22 x 22 x 115mm |
| Battery: | 1100mAh |
| Tank: | 2ml |
| Resistance: | 1.0-2.2ohm |
| Material: | ABS + PC |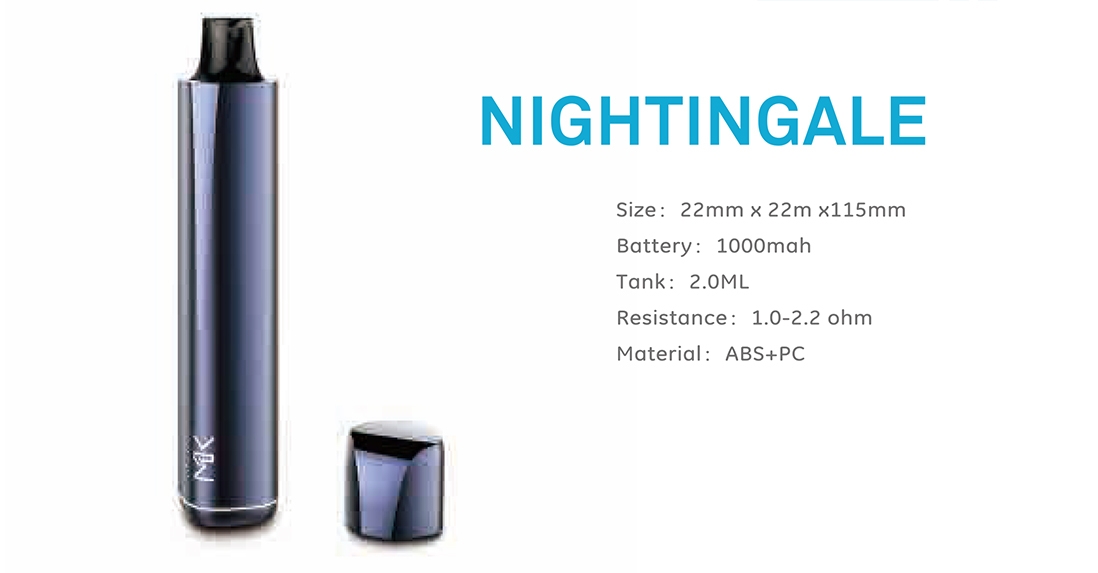 Features of Maskking Nightingale Vape Kit
➤ 1. Magnetic dust-proof cap to make the mouthpiece cleaner and more hygienic
➤ 2. 1100mAh built-in battery for long-lasting vaping
➤ 3. 2ml tank, it is in line with TPD certification
➤ 4. Ceramic core keeps the flavor more delicate and better
➤ 5. Multiple protections for safe vaping environment
➤ 6. Bottom LED ring light makes vape pen more fashionable and beautiful, also display electricity
➤ 7. Constructed by ABS and PC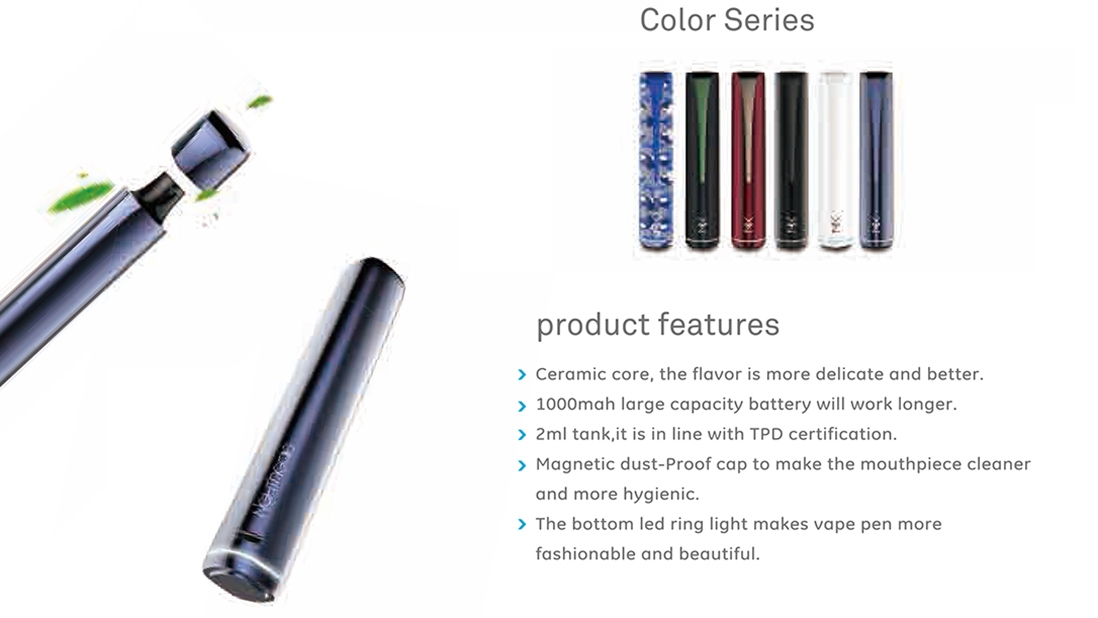 Maskking Nightingale Vape Kit Includes
✔ 1 x Maskking Nightingale Device
✔ 2 x Clearomizers
✔ 1 x Dust-proof Cap
✔ 1 x USB Cable
✔ 1 x Warranty Card
✔ 1 x User Manual
Simple packing. Customary packing from the factory, the packing is subject to change without notice.
How to charge Nightingale?
Simply charge Nightingale Battery by connecting it with a computer, a power bank, a wall adapter or other electronic devices (with a USB port that is capable of providing a charge) via USB cable, also you can purchase an inexpensive USB car adapter, thereby affording you the ability to charge the Nightingale Battery in the car. This is particularly useful while you are on long drives and road trips.
Maskking Nightingale Starter Kit Note
❤ Please read the user manual carefully before using this Maskking Nightingale Kit.
Maskking Nightingale Starter Kit Guarantee
☞ 6 months warranty period for Maskking Nightingale Kit.