SMOK Nord AIO 19 Kit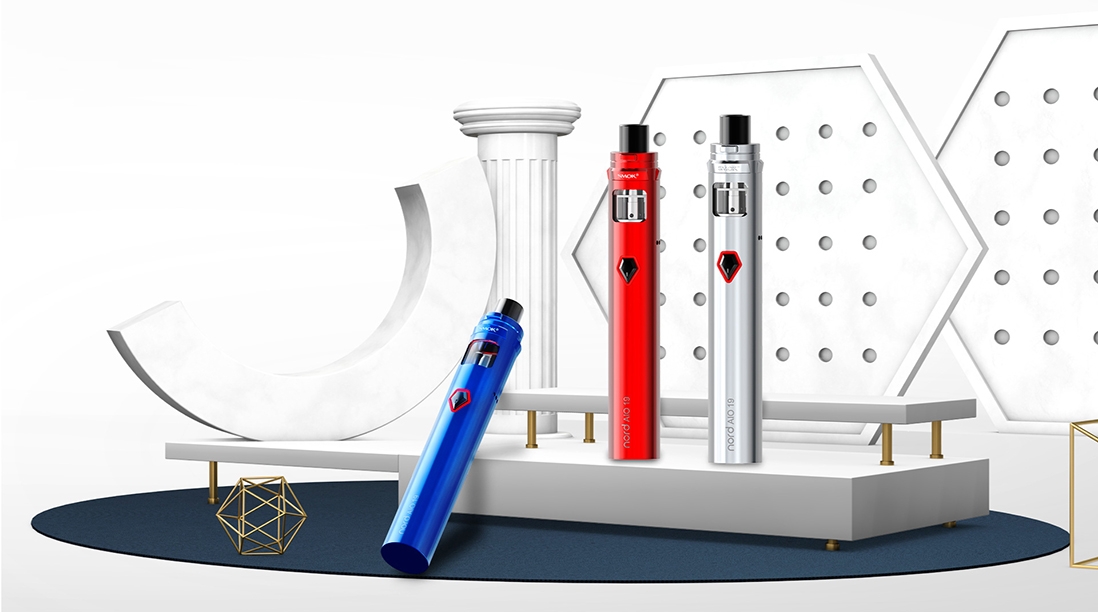 Nord AIO 19 Details
| | |
| --- | --- |
| Brand: | SMOK |
| Product Name: | Nord AIO 19 Kit |
| SKU: | SMT011100 |
| Type: | Starter Kit | Vape Kit | AIO Kit | Pen Kit |
| Color: | Black Plating, Blue, Red, Gold, Stainless Steel, 7-Color |
| Launch Date: | December 27, 2018 |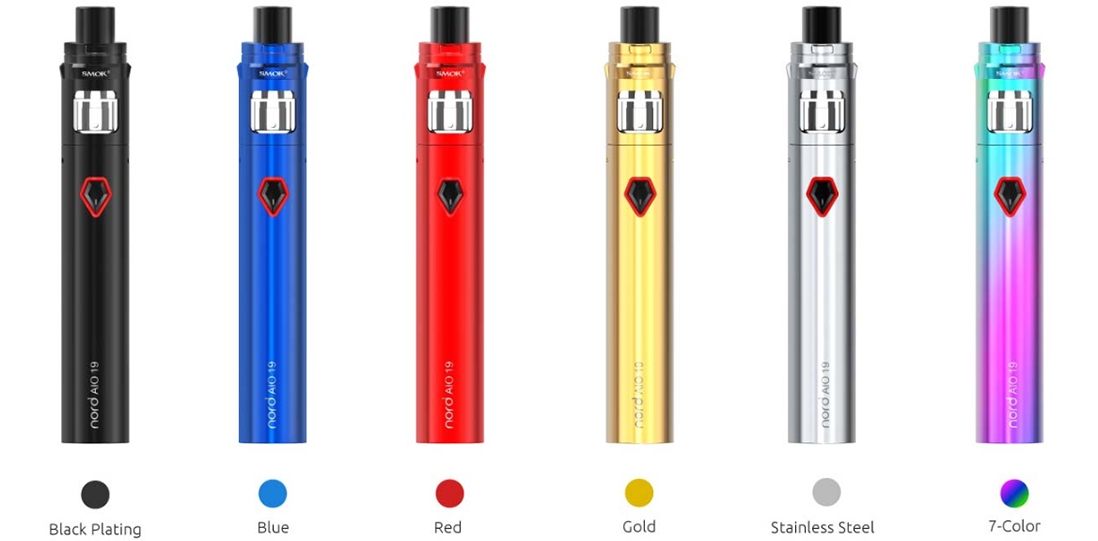 SMOK Nord AIO 19 Starter Kit Introduction
The SMOK Nord AIO 19 Kit is an all-in-one pen-style kit which includes an internal 1300mAh battery and a built-in 2ml tank. It has a press button on the top cap to avoid accidental leakage and play a role of child lock as well, and you can enjoy hassle-free operations with the pentagon power button. Coming with intelligent LED indicator, it can tell you various status. It provides multiple protections to ensure a safe vaping environment. There are two air slots spaced on the battery's top part, delivering balanced airflow. With the top slide filling design, it is very convenient to refill e-juice. Moreover, there are two coils included: Nord 0.6Ω mesh coil and 1.4Ω regular coil, bringing massive vapor clouds and flavorful taste.
Parameters of SMOK Nord AIO Kit 19
| | |
| --- | --- |
| Size: | 122.5 x 19mm |
| Material: | Stainless Steel |
| Battery Capacity: | 1300mAh |
| Standby Current: | <20µA |
| Power Range: | 15-25W |
| Input Voltage: | 3.3-4.2V |
| Output Voltage: | 2.9-3.8V |
| Charging Voltage: | 5V |
| Charging Current: | 0.4A±0.05A |
| E-liquid Capacity: | 2ml |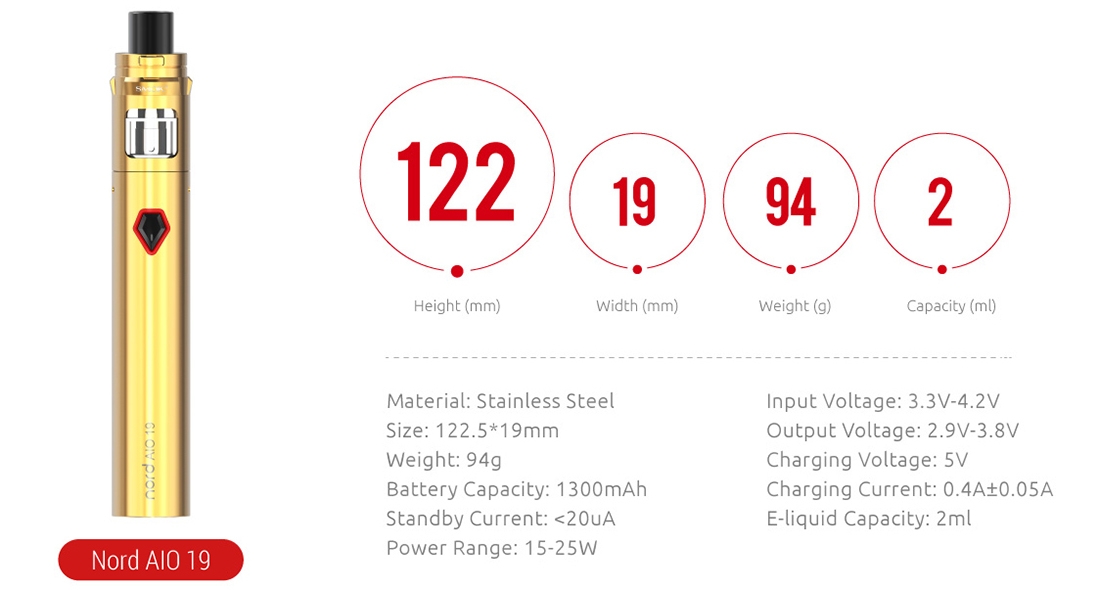 Features of SMOK Nord AIO 19 Kit 1300mAh 25W
➤ 1. 1300mAh internal battery & 2ml built-in tank
➤ 2. All-in-one pen-style design, small and portable size
➤ 3. Intelligent LED indicator to show your various status
➤ 4. Press button on the top cap to avoid accidental leakage
➤ 5. Pentagon power button for AIO operation
➤ 6. Easy slide top refilling design
➤ 7. Two air slots on the battery's top part
➤ 8. Nord 1.4ohm regular coil and Nord 0.6ohm mesh coil included
➤ 9. Multiple safety protections: 8 seconds cut-off, low voltage protection, impedance protection, and short circuit protection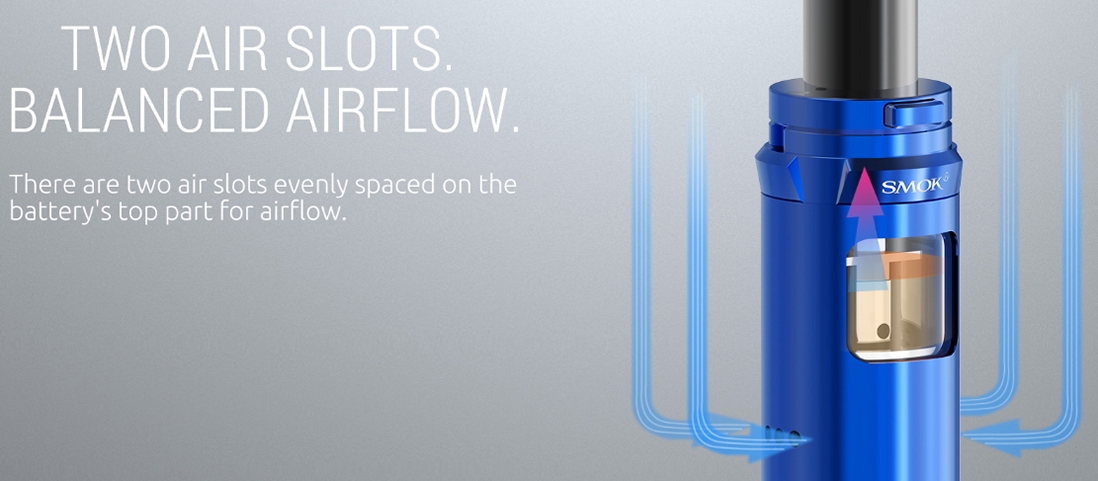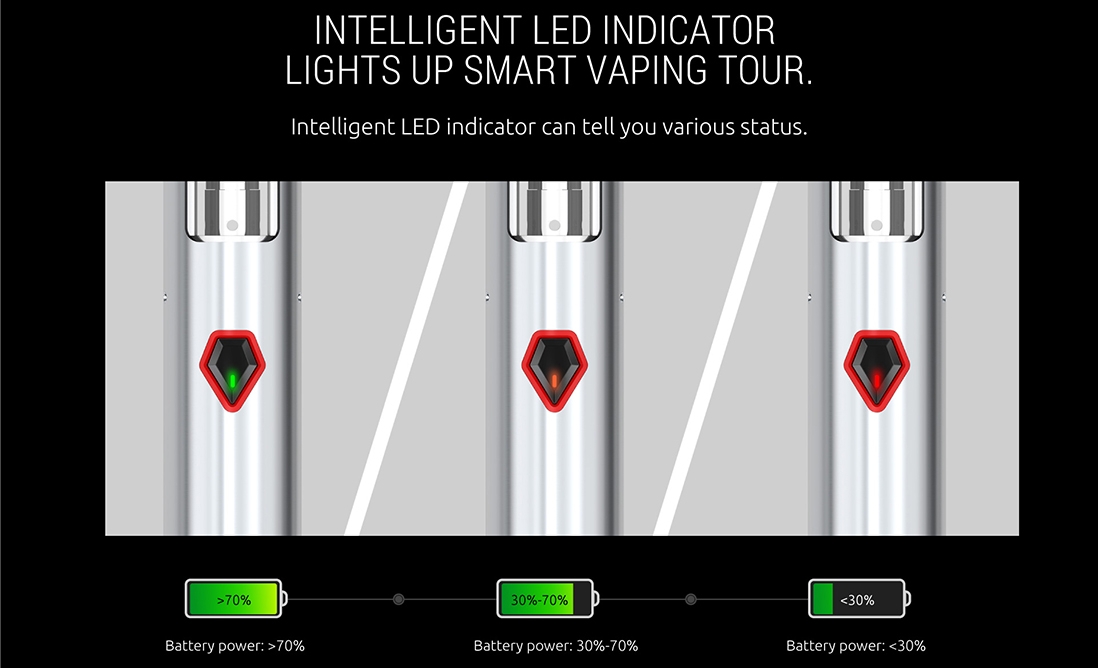 SMOK Nord AIO 19 All-in-one Kit Includes
✔ 1 * SMOK Nord AIO 19 Device (2ml)
✔ 1 * Nord Mesh 0.6ohm Coil (Max: 25W)
✔ 1 * Nord Regular 1.4ohm Coil (Max: 12W)
✔ 1 * USB Cable
✔ 1 * User Manual
Simple packing. Customary packing from the factory, the packing is subject to change without notice.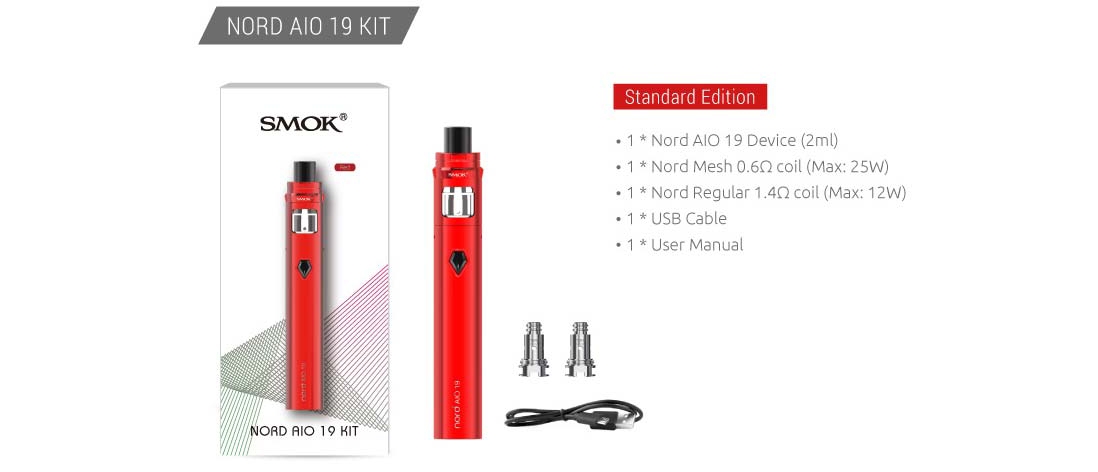 How to use SMOK Nord AIO 19 Vape Pen Kit?
How to charge Nord AIO 19?
Charge the Nord AIO 19 by connecting it to a computer or a wall charger (output: DC 5V) via the included USB cable. When it is charging, the charging indicator will turn red, and when it is fully charged the indicator will be off.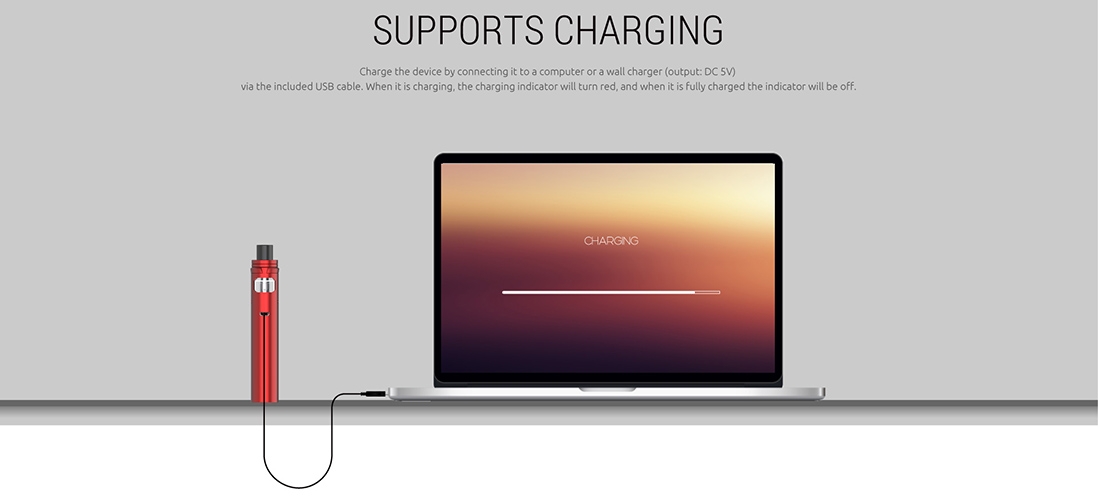 How to fill Nord AIO 19 with e-liquid?
Step 1: hold the tank with one hand, and use another one to press button and then move it counterclockwise;
Step 2: add e-liquid through the slot, and pay attention not to drip it into the central airflow tube;
Step 3: close the cap carefully and firmly. Then let it stand for several minutes to get the cotton completely saturated.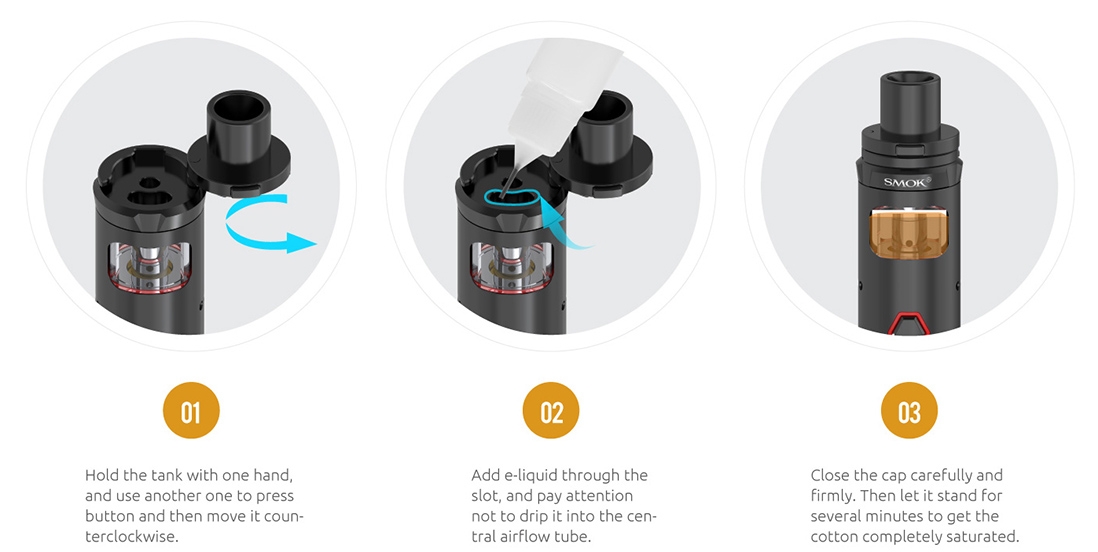 SMOK Nord AIO 19 Kit Note
❤ Please read the user manual carefully before using this SMOK Nord AIO 19 Kit.
SMOK Nord AIO 19 Kit Guarantee
☞ 6 months warranty period for SMOK Nord AIO 19 Kit.