Attention:
Shipping restriction: Due to exclusive distributor of Smok, we do not send nord 5/nord 50w/nord 4/nord 2/nord pro/novo 2x/novo 4 /novo 4 mini kit/novo 2/2s kit and matched pods&coils to customers in New Zealand,We only send 2ml tpd smok products in UK and don't send smok products to customers in Poland.
Baby V2 A1 Coil
Details
| | |
| --- | --- |
| Brand: | SMOK |
| Product Name: | SMOK TFV8 Baby V2 A1 Replacement Coil Head |
| SKU: | SMX010700 |
| Type: | Coil Head |
| Color: | Stainless, Gold, 7-color |
| Launch Date: | September 25th, 2018 |
Introduction
SMOK TFV8 Baby V2 A1 Coil is designed for SMOK TFV8 Baby V2 Tank, which has a large hole inside that can enlarge the area to cover the cotton. The coil features 0.17ohm resistance, rated at 90-140W (best 110-130W), bringing you smooth airflow and massive vapor.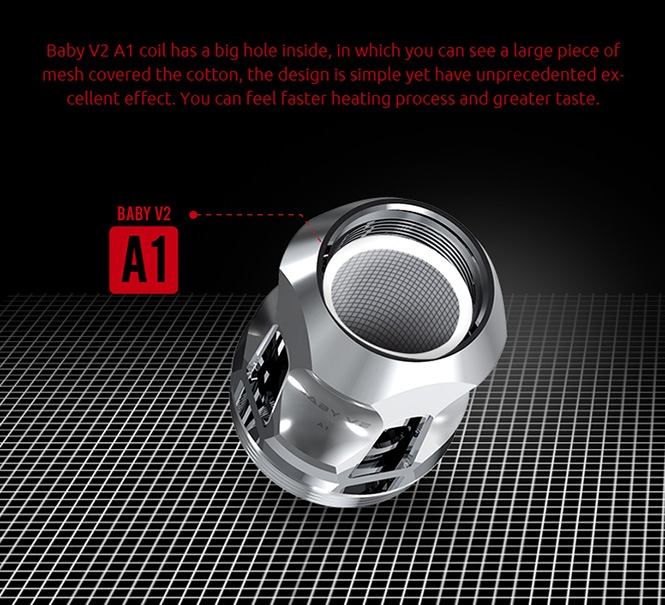 Packing List
✔ 1 x 3pcs SMOK TFV8 Baby V2 A1 Coil
Note
❤ Please drip a few drops e-liquid into the head and inhale a few times in power-off condition before its first use to avoid dry burn.
❤ Please don't wash the head with water. Simply scrub it with cotton or clean dry cloth.