Attention:
Shipping restriction: Due to exclusive distributor of Smok, we do not send nord 5/nord 50w/nord 4/nord 2/nord pro/novo 2x/novo 4 /novo 4 mini kit/novo 2/2s kit and matched pods&coils to customers in New Zealand,We only send 2ml tpd smok products in UK and don't send smok products to customers in Russia/Poland/Czech Republic/Slovakia/Norway/Denmark/Sweden/Finland/Dominica/Israel/ Belgium/Netherlands/ Lithuania/Canada/Bulgaria.
SMOK TFV8 Baby V2 A2 Coil
Details
| | |
| --- | --- |
| Brand: | SMOK |
| Product Name: | SMOK TFV8 Baby V2 A2 Replacement Coil Head |
| SKU: | SMX010800 |
| Type: | Coil Head |
| Color: | Stainless, Gold, 7-color |
| Launch Date: | September 25th, 2018 |
Introduction
SMOK TFV8 Baby V2 A2 Coil is designed for SMOK TFV8 Baby V2 Tank, which has two holes inside, and both of the holes have cobra mesh covered. The coil features 0.2ohm resistance, rated at 50-80W (best 65-75W), bringing you smooth airflow and massive vapor.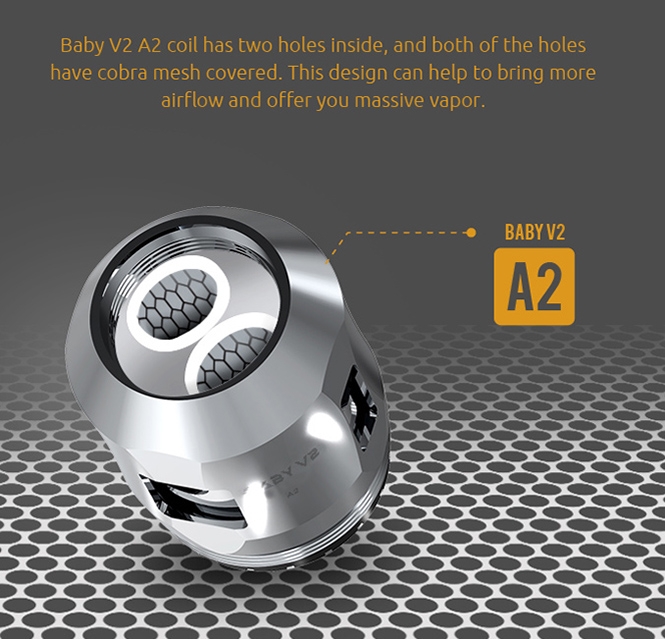 Packing List
✔ 1 x 3pcs SMOK TFV8 Baby V2 A2 Coil
Note
❤ Please drip a few drops e-liquid into the head and inhale a few times in power-off condition before its first use to avoid dry burn.
❤ Please don't wash the head with water. Simply scrub it with cotton or clean dry cloth.